This month marks the 37th anniversary of the Disco Demolition riots, which took place at Chicago's Comiskey Park in 1979. The White Sox and a local radio station put together one of the most ill-conceived, successful promotions in sports history, wherein they sold tickets to a doubleheader against the Tigers for $0.98, provided you brought a disco record for them to blow up on the field between games. Meanwhile, you could enjoy a beer for $0.90, about $3.50 in today's dollars. The White Sox quadrupled their average attendance figure that night, and the burning of the records sparked a massive riot.
Ohtani has the WBC, but will Mike Trout ever lead the Angels to a championship? | Agree to Disagree
The July issue of Chicago Magazine has a thorough oral history of the evening, and they spoke with reps from the team, radio station, rioters, vendors, White Sox players, the pyrotechnician, and Comiskey Park's organist, among others. Here are some of the best details from the story:
Kids were climbing foul poles. I saw [an usher] get punched in the face. I saw a kid marching from third base to home plate with a marijuana leaf sign.

At first I saw little fires breaking out in the outfield. Three nuns were sitting near me. They turned around and asked, "What is everybody chanting?" In those days, "Disco sucks" wasn't a nice thing to say. My friend told them, "They're just going, 'Let's go, Sox.' "
People tried to break down the clubhouse door. There was a four-by-six plank holding the door back, and so many people were distressing that plank. They finally got the people off. There was the odor of fire in the ballpark. People were hanging from the guard wires on the scoreboard in center field. It was lunacy defined.
I came out of the locker room to the dugout. I was sitting with [outfielder] Ralph Garr and [first baseman] Lamar Johnson. They both had bats in their hands. [The fans] weren't as rowdy as much as they were just partying and running around. So I ask Lamar and Ralph, "Are you going to use those bats against these people?" They were two of my best buddies in baseball. They said, "If they come down in the dugout, we are."
Disco Demolition set us free. When I jumped on the outfield, there was this moment of liberation where I thought, I don't have to be like everyone else. And you know what? By the time there were a few hundred people running around out there, they all had the same fucking goofy grin on their faces. It was like it's OK for a long-haired kid who likes rock 'n' roll to be free and stupid. For me, Disco Demolition was a license to let your freak flag fly. We took over a ballpark. It was kind of cool. We began to realize we had a tiny bit of power in the world.
Go read the whole thing over at Chicago Magazine, and watch ESPN's story on the riot.
G/O Media may get a commission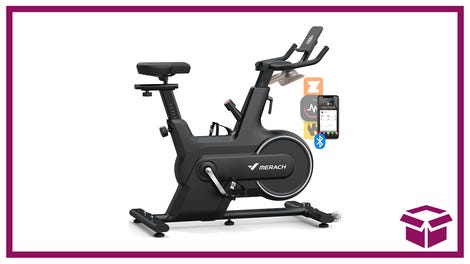 14% off + Coupon
Merach Indoor Cycling Bike