You'll recall last week, when Washington Wizards center Marcin Gortat unveiled his hard-ass new mohawk 'do and transformed instantaneously from an affable Euro dude into a terrifying Death-Slav from hell. Well, it appears that Street Fighter-based coiffures are becoming A Thing on the Wizards: Check out Gortat's teammate, corner-three-bombin'-ass Martell Webster!
Whoa, man. Whoa. Take it easy, man! Nobody wants any trouble, Martell. We're all friends here. Please don't kick our asses, man.
Here's some footage of Martell going hard to the hoop with his new hairstyle.
---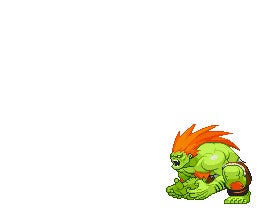 ---
I dunno, man, the Wiz might have the look this season. So long as Nene doesn't show up to camp looking like E. Honda.
Top image by Jim Cooke.