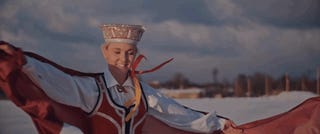 One music video about Latvian-born New York Knicks rookie Kristaps Porzingis wasn't enough. There's a second one titled "Keep Calm Like Kristaps Porzingis," which features Lamborghinis in the snow, dabs, and heavy influences from Future.
The song's credited to OLAS, and judging from their YouTube channel, the duo appears to be a Latvian version of The Lonely Island:
Latvia seems fun.
---
Contact the author at samer@deadspin.com.