Shiny new arena, shiny new uniforms, shiny new rivalry: Thursday night was supposed to be the beginning of an era in New York basketball, with the Brooklyn Nets opening up the Barclays Center against the Knicks, with all the appropriate pomp and celebration. Then Hurricane Sandy had to go and happen, and I cannot for the life of me see how this game is going to be played as scheduled.
The Times says the game is "in doubt," and an NBA spokesman was wholly noncommittal:
"Tonight's games will be played," Tim Frank, the N.B.A.'s senior vice president for communications, said in an e-mail. "We are still assessing the situation with regards to the rest of the week."
There's going to be people who say postpone it, people have died and the Jersey shore is underwater and yeah, those things are more important. But we are stuck in our homes with our annoying loved ones, and the trains aren't working and some bridges and tunnels are closed and we can't go anywhere and we are bored. We were very much looking forward to basketball.
So, respect for a tragedy should not be the reason Thursday's game won't be played, and it's not. It's purely logistical. There's almost no way for the vast majority of fans or arena workers to even get to Downtown Brooklyn. A major selling point for the Barclays Center is how accessible it is by both subway and Long Island Railroad, but it could be four or five days before subway service is up and running. They've already canceled tomorrow night's Smashing Pumpkins concert, and the situation isn't going to be markedly better 24 hours later.
G/O Media may get a commission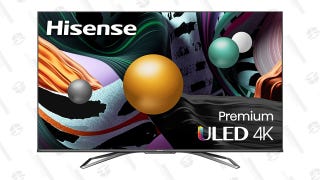 Save $350
Hisense ULED 65" Android 4K HDR Smart TV
The question then becomes: when? The Nets have home games on Saturday and Monday, and the Knicks have games at MSG Friday and Sunday. Both teams could be in for slightly compressed schedules later in the season.
Update, 9:10 EDT: The NBA says the game will be played Thursday night as scheduled, subway or no subway.
Update, 10/31, 2:15 EDT: Spoke too soon! The game will be postponed.