Because no one reads the newspaper, and SportsCenter's anchors are too perky for this early in the morning, Deadspin combs the best of the broadsheets and internets to bring you everything you need to know to start your day.
The best sports movies according to Toheeb Jimoh
• The Miami (Ohio) RedHawks were 1-11 last year. Last night, they were down 21-20 to Northern Illinois with 1:51 remaining. Fourth and 20. Freshman QB Austin Boucher threw a last-ditch pass. It got tipped. Into WR Chris Givens' hands. For a first down. Which brought about a touchdown with 33 seconds left. It also brought a MAC title. As you can see from the photo, Northern Illinois fans were very sad about this. Here's some video. [Northern Star] [Detroit Free Press]
• There's an app for saving the life a young basketball player who collapses on the court and stops breathing. [LA Times]
• The NBA might go all Expos all over the New Orleans Hornets, stepping in to buy the franchise "because of minority owner Gary Chouest's reluctance to purchase George Shinn's majority share. Sources indicated Friday night that Chouest does not think he can devote the needed time to run an NBA franchise and operate his private business." [New Orleans Times Picayune]
G/O Media may get a commission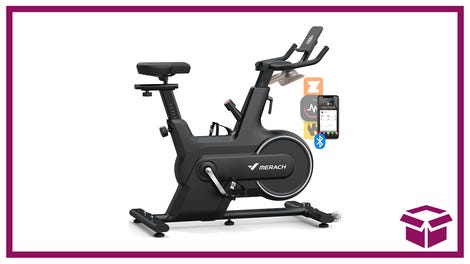 14% off + Coupon
Merach Indoor Cycling Bike
• As of Dec. 1, 33 concussions had been reported to the NHL this season, which is the same as last season despite league efforts "outlawing" blindside hits to the head. [CBC Sports]
• So apparently Peyton Hillis didn't hit on his former coach's wife, thus hastening his move from the Denver Broncos to the Cleveland Browns. [Read and React]
• The Red Sox made a play for Mariano Rivera, which is kind of a prick move. So, the Yankees now seem to be going after Tampa Bay's Carl Crawford, who (whom?) the Sox covet, which is kind of a prick move. Same as it ever was. Same as it ever was. Same as it ever was. Same. As it. Ever. Was. [New York Daily News]
• After the NFL players' union estimated "an average of about $160 million in local spending and 3,000 jobs would be lost in each league city if the full 2011 season were wiped out," NFL spokesman Greg Aiello sent the Associated Press an email stating, "The fairy tales continue." Going unquestioned was whether fronting like they're concerned about head injuries while pushing to add to more head-injuring weeks to the schedule qualifies as "the Gargamellian tale continues." [CNNSI]
• A 16-year-old high-school football player from Slinger, Wisc. was bench pressing 185 pounds without a spotter earlier this week. The weight dropped on him. He was dead by the time first responders arrived. [620 WTMJ]
• RIP, Phil Jasner, a storied Philadelphia basketball writer and all-around decent human being, who died last night of cancer.
"So many people in the business are so cynical. 'Sports writer' and 'cynical' go hand-in-hand sometimes, but he never was. In fact, he hated that. It made him crazy when people were like that." [philly.com]
• Here's video of Cleveland fans throwing beer on a fellow Cleveland fan. (H/T JovanJ) Circle March 29 on your calendar, if watching cannibalism on cable TV's your thing.

• And, finally, from the "Hickey's Biased" coverage files … RIP, Santo [Chicago Tribune]. Messi > Ronaldo [CNNSI]. Nils Lofgren whines about the positive coverage of Michael Vick. Open note to Nils: I've been disheartened and disappointed in Tunnel of Love for 23 years [ESPN].
****
Happy Saturday. Hope you had a lovely week.