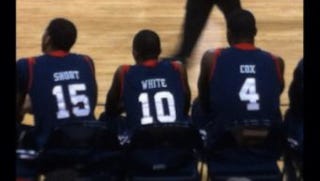 Your morning roundup for Jan. 16, the day we learned Rice Krispies can be dangerous. Photo via @tonyagolini. Got any stories or photos for us? Tip your editors.

What we watched: Giants at Packers. For all the hoopla surrounding New York's upset victory, Green Bay pretty much handed the game over on a silver platter. The Packers' offense was plagued by untimely fumbles, wide receiver drops, and the occasional errant throw from Aaron Rodgers. But this Giants team resembles the '07 Super Bowl champs, if you didn't know, so magic is in the air.

What we're watching (all times EST, unless noted): Chicago at Memphis in NBA basketball at 1 (ESPN). Louisville at Marquette in men's college basketball at 3:30 (ESPN). Texas A&M in men's college basketball at 5:30 (ESPN). Hampton at Morgan State in men's college basketball at 7 (ESPNU). North Carolina at Connecticut in women's college basketball at 7:30 (ESPN2). Pittsburgh at Syracuse in men's college basketball at 7:30 (ESPN). Dallas at St. Louis in NHL hockey at 7:30 (NBCSN). Oklahoma City at Boston in NBA basketball at 8 (TNT). Notre Dame at Rutgers in men's college basketball at 9 (ESPNU). Australian Open, 1st round, at 9 (ESPN2). Baylor at Kansas in men's college basketball at 9:30 (ESPN). Dallas at Los Angeles Lakers in NBA basketball at 10:30 (TNT).
Read Me
The great shoe idea that never got running: "Athletic brands spend millions every year trying to build a better sneaker that will propel them to the front of the $6.3 billion running shoe business, one of the biggest and most visible areas of sporting goods, with 11 percent growth in 2011, according to industry analyst SportsOneSource. Nearly all sneakers have a sole that looks like lasagna, composed of layers of rubber, foam, and plastic. The fluffy foam is made from ethylene-vinyl acetate, or EVA, which has its critics: EVA adds weight to shoes, and lab tests show it requires more energy per stride. Running shoe companies have long sought an EVA substitute that absorbs shock but also returns more energy. 'Consumers like the cushioned feeling associated with a conventional running shoe,' says Darren Stefanyshyn, a University of Calgary researcher and former chairperson of the Footwear Biomechanics Group. 'If you could provide that without using foam, you'd have a winner.' It took him eleven years, but Hann finally converted his airport research into a breakthrough sneaker patented in 2004, a shoe with an entirely different system to cushion and propel the foot. It quickly attracted the attention of fast-growing athletic brand Under Armour (UA), which spent two years and hundreds of thousands of dollars to develop it as the prospective centerpiece of the company's first line of footwear. Hann's shoe was scheduled to launch early this year and was poised to rock the footwear industry, but it never quite made it to market." [Business Week]
This Date In Deadspin History
Jan. 16, 2008: Donte Stallworth's Alien Friend Nicco
Elsewhere
Only three NBA players care about winning: "'The game just gets easier with Chris Paul,' Bryant said before comparing himself to Paul. 'He's a dog. He's going to fight to win, and not too many teams can deal with him. 'Chris Paul is really the only other guy in the league, other than Derrick Rose, who also has that competitive edge.'" [ESPN]
A man of many trades: "Retired NBA star Yao Ming has added another line to his post-basketball resume - politician - becoming a member of an advisory body to Shanghai's legislature. Since the 31-year-old Yao announced last July that injuries had ended his career with the Houston Rockets, he has become a university student and set up a wine business to go with owning a professional basketball team in China. Photos in official media on Monday showed Yao at the weekend closing ceremony for the Chinese People's Political Consultative Conference Shanghai Committee. 'There are about 142 members in the group, and Yao is the youngest,' Kong Rong, who works in the service office of committee, was quoted as saying by the China Daily.'" [ABC]
Your How To Use An Old Telephone Interlude:
Still, no one likes Tiki Barber: "Tiki Barber tried to set up a meeting with Tom Coughlin in an attempt to repair their relationship, but the Giants coach opted not to meet with his former player. Barber, the Giants all-time leading rusher, had been critical of Coughlin's coaching style since he retired after the 2006 season. 'We tried (to set up a meeting). He said no, through his agent, (Giants vice president of communications) Pat Hanlon,' Barber said on ESPN Radio. 'But one of these days I'm sure it'll happen, because as we know, time heals all wounds. And I think at the end of the day, Giants fans, despite their dislike of me at times, know that I was one of the guys that put (it) on the line every time I put on my uniform.'" [NY Post]
About time, Roger: "Aiming to ensure NFL rules are enforced the same way from game to game, the league will consider making about 10 officials full-time employees next season. As of now, all game officials are part-time employees. Responding to a question about consistency in officiating while speaking to a group of about 75 fans before Sunday's playoff game between the Baltimore Ravens and Houston Texans, NFL commissioner Roger Goodell said the proposal would bring a group of officials to the league offices in New York to help review game films and evaluate the calls." [ESPN]
Send stories, photos, and anything else you might have to tips@deadspin.com.