Because no one reads the newspaper, and SportsCenter's anchors are too perky for this early in the morning, Deadspin combs the best of the broadsheets and the blogosphere to bring you everything you need to know to start your day.
•Syracuse celebrates their first game atop the polls by clinching the Big East title. But considering no team has been No. 1 for more than one week this season (may not be technically true, but sure feels like it), the smart money is on Louisville Saturday.
•Oh look, a staged fight between Floyd Mayweather and Shane Mosley at their press conference. Boxing is already degenerating into pro wrestling, so why not throw in Pacquiao, put them all in a steel cage, and make it a Triple Threat match.
•Tiger Woods is back at home and brushing up on his game. His golf game. He doesn't need help with that other thing.
•It sounds like they're ready to play with the big boys when the Diamonbacks lock up Justin Upton for six years. But then you remember they're the Diamondbacks, that they called him up earlier than any decent team would, and he'll still be a free agent when he's 28 and in his prime.
G/O Media may get a commission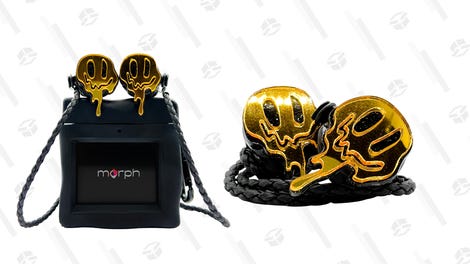 morph audio
Morph Earphones
•This year, no one wanted to play in the Pro Bowl because it was before the Super Bowl, and not in Hawaii. While the NFL is going to stick with that date if it kills them, they realized no one's trekking to North Texas in late January. It's heading back to the islands.
(Photo courtesy of The Money Shot)
•••••
Welcome back to Lord of the Flies week here at Deadspin. Just leave Piggy his glasses.