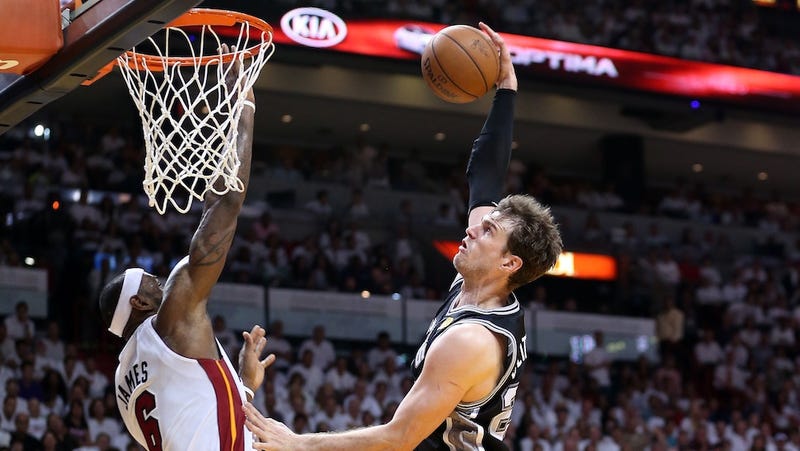 If there was ever a moment to be afraid that the moronic lowing of "LeBron isn't clutch!" was going to be heard once again, it was during the first half of Game 2 between the Spurs and Heat. James played tentatively throughout the half, finishing with four points, four assists, and one rebound on 2-7 shooting. Skip Bayless probably spent halftime howling "LeBrick James!" into his vanity mirror in preparation for today's episode of First Take. But then the second half started, and LeBron showed us that his game has come too far to ever be truly boxed in.
LeBron spent a lot of time in the first half with the ball in his hands, going one-on-one with Kawhi Leonard on the perimeter and struggling to get his shot to fall. But instead of trying to force his way back into the game with a barrage of jump shots or a few wild forays into the paint, LeBron expanded is game even further—transforming himself into a power forward and finding yet another way to control the game.
With 3:30 left in the third quarter, the Spurs led 62-61. LeBron had just had his shot blocked from behind by Danny Green, Mario Chalmers had just bricked a three, and momentum was not exactly on the Heat's side. But then the Heat ran five pick-and-rolls with Mario Chalmers as the ball handler and James as the screener, and the tide began to turn. All five plays garnered the Heat a quality shot, the best of which you can see here:
Both plays demonstrate just how far James has come as a player since his Cleveland days. He's no longer the guy who has to isolate at the top of the key and expend all of his energy driving headlong into the lane in order to create offense for his team. Now he's the guy who can set a perfect screen, receive a bounce-pass in stride, and freight-train his way to the rim for a layup. Now he's the guy who can run a pick-and-roll, go hopping into the lane like a young Amar'e Stoudemire, and then whip a perfect pass back to the perimeter for an open three-pointer. By the time the third quarter ended, the Heat were up by ten.
This is why it's unlikely that we'll see James have a truly miserable game or "choke" ever again. There are simply too many ways for him to exert his will on a basketball game. He has always been able to effortlessly play the roles of scorer and distributor; now he can be a screener, a rebounder, a post-up player, and a shot blocker. It's a hard to take a player out of his game when "his game" can be whatever the hell he wants it to be.