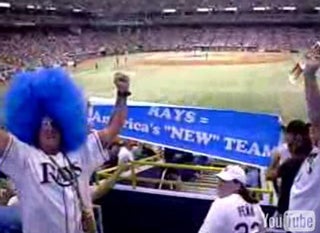 OK, first of all, Cowbell Kid may seem pretty impressive when he's among his own in Tropicana Field, but I'd like to see him tearing down banners and clanging his bell at Fenway ... or Yankee Stadium, for that matter. Can Cowbell Kid win on the road? That's the question. As for the Rays, they've answered most of theirs. Tampa solved the mystery that is Tim Wakefield with a 3-1 win on Tuesday, moving their division lead over the Sox to a season-best 2 1/2 games. Orange juice for everyone!
And now a couple of things before we move on. First, can we get rid of this? Nondescript carpet-remnant nightmare fuel mascots are sooo 20th century. I don't want that thing cavorting with my children; there could be a child molester in that costume. Or worse, a mime. Secondly, where were all these Tampa Bay fans last year? Do you think a few large crowds when the team was struggling could have improved their chances? Guys like Dickie V. only crawl out of the woodwork for a winner, I suppose. Ahhh! (waves hand dismissively).
Matt Garza went seven innings for the win, giving up five hits (that's six hits in his past two starts), and Dioner Navarro's fourth-inning single drove in the deciding run. Wakefield (5-6) has 19 career wins against Tampa Bay — nine at Tropicana — the most by an opposing pitcher. The Rays have won seven of eight, and lead the majors with a 51-32 record. But the Red Sox are 6-0 against the Rays at Fenway, which is giving me a real Celtics sort of vibe here.
• Jose Castillo Would Like To Have A Word With Wizard Cat. As amazing as this play is by Giants' third baseman Jose Castillo, unfortunately it did not make the cut for Wizard Cat Defensive Player Of The Day (see below). Stupid Wizard Cat! Matt Cain threw an eight-inning shutout with 10 strikeouts as the Giants beat the swooning Cubs, 2-1.
• Can No One Stop The Calcetines Blancos? The Indians are floundering so badly that even Cliff Lee can't get a win. Alexei Ramirez's homer with two out in the 10th tied it, and Orlando Cabrera's single won it, 3-2, for the White Sox. And now an awesome sentence: Adam Russell (1-0) got his first major league win with one-third of an inning, striking out Franklin Gutierrez with two on in the top of the 10th. Nice day's work, my friend!
• Just Call Him TAJ. Tony Armas Jr., most recently of the New Orleans Zephyrs (another Ken Oberkfell product) won his season debut and Ramon Castro (not the Cuban dictator) had three RBI in the Mets' 7-4 win over the Cardinals.
• A-Rod Will Sit This One Out, Thanks. So participating in the Home Run Derby would throw off Alex Rodriguez's mechanics, but hanging around with Madonna wouldn't?
• Wizard Cat Defensive Player Of The Day. Evan Longoria, Tampa Bay Rays. This is why Tampa Bay is in first place; the Rays are haunted. Such athleticism has not been seen since Wizard Cat leaped from the top of the sofa to capture the felt mouse. This play receives: Seven wands.