Last night was a miserable one for the Lakers. They lost to a Nuggets team missing all of Nikola Jokic, Paul Millsap, and Wilson Chandler, after taking a four-point lead into halftime. Frustration and befuddlement mounted throughout the second half, until, by crunch-time, the Lakers were more or less just handing the ball to Nuggets players, and ushering them to the basket.
As much as the Lakers spent the whole second half melting down, it was really at the 3:56 mark of the fourth quarter that they fully went into the toilet. The score was tied at 100 all; from that point onward, the Lakers endured a hilarious game-ending stretch that included as many Lakers turnovers (four) as shot attempts, and more Lonzo Ball technical fouls (one) than points scored. The Nuggets closed the game on a remarkable 15-0 run.
About young Lonzo: apart from here and there looking like an interesting NBA prospect—at this point, "interesting NBA prospect" is an extremely generous way of saying "he throws some nice hit-ahead passes in semi-transition"—Ball is having a downright nightmarish rookie campaign. And, sure, lots of rookies struggle in the NBA. Emmanuel Mudiay, for example, struggled mightily his rookie season, posting just a 43.7 True Shooting percentage, and becoming something of a reference point for dismal rookie guard play. Lonzo's efficiency, on the other hand, is in a category of its own: his True Shooting percentage, today, is sitting at 38.3 percent. Among all NBA players averaging at least 10 minutes per game this season—a list that includes 358 players—Lonzo's True Shooting ranks eighth from the very bottom. And Lonzo is averaging more than 14 minutes per game more than anyone else in the bottom 20 of that list. While they're still rebuilding the Lakers stand to gain more by losing than by winning, and by happy coincidence Lonzo's bonkers inefficiency as a high-minutes player basically makes winning impossible.
I hate to harp on his struggles, but they really are something: Lonzo is shooting less than 47 percent from the free throw line. Remember when we all wanted the Sixers to shut down Markelle Fultz because his free throws and jump shot were busted? Fultz's free throw percentage (50 percent) and field goal percentage (33.3 percent) on the season are both higher than Lonzo's (46.7 percent and 31.8 percent, respectively). And that was with a new and completely deformed shooting motion.

G/O Media may get a commission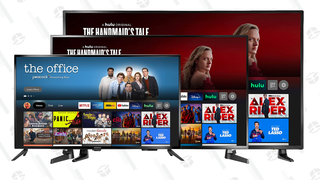 Up to 44% off
Prime Early Access - Insignia Fire TVs
And the source of Lonzo's struggles doesn't appear to be all that different from what's afflicted Fultz: in addition to a wildly unorthodox shooting motion, Lonzo appears to suffer from a debilitating lack of confidence as a scorer. For example: Lonzo opened up the season shooting 5-of-9 from the stripe over his first four games—not a ton of free throws, but at least a trip or two a game. But the poor percentage may have discouraged him from seeking contact; over the next five games, Lonzo attempted just one free throw (and missed it). He then went on another relative binge: 14 free throws over the next four Lakers games. And, like before, a high rate of failure—he made just half of his 14 attempts—seems to have discouraged aggressive play: over the last nine Lakers games, Lonzo has attempted just six free throws.
Free throw attempts and free throw rate are good reference points for how much pressure a player puts on an opposing interior defense, to say nothing of the accumulation of fouls being a net negative for your opposition. Even during his relative binges, Lonzo has the free throw rate of, like, Pat Connaughton. The lack of scoring aggression is an actual problem—the Lakers have the third-worst offensive rating in the entire league, and Lonzo's personal offensive rating is a full point lower than the team's overall number. They're a really bad offensive team, and a worse one when Lonzo is on the floor.
This is the kind of trouble teams will run into when they hand a rookie teenager a giant role, like Starting Point Guard and Face of the Franchise. Lonzo's got a lot of shit to figure out, including what it feels like to fail, and what range of personal, short-term failure is acceptable within the context of a rebuilding professional basketball team. Shooting poorly from the floor is an expected and acceptable part of being a rookie guard in the NBA; shying away from contact and dialing back scoring aggression in order to avoid getting to the free throw line is another matter. Lonzo has to learn how to play in the NBA—deleting a whole part of his game in order to retreat from personal failure is more like refusing to play.
Given his team's collapse and his ongoing personal struggles, it was no real surprise that Lonzo picked up his first career technical foul late last night. He made an aggressive contest on a Jamal Murray drive, and was whistled for a foul, and complained. It was almost a relief to see Lonzo pick up a technical as a result of having an actual emotional response on the floor—so much of his on-court demeanor can be read as "I would prefer to be doing something other than playing basketball right now." He's not having a lot of fun, these days! The Lakers have lost four in a row and seven of 10, after a promising start. They're bad, and being bad is not fun.
Opposing NBA players, on the other hand, are still making a point of having fun going after the rookie. Murray made the most of this one, using the last few seconds of the game as an occasion to showboat at Lonzo's expense:
Possibly no player on a losing team across the NBA has more daily pressure on him than Lonzo Ball. Someday he'll probably decide to release some of that pressure by rising up for a dunk, or throwing an elbow, or giving a hard foul in transition. Right now, it seems like his main way of handling it is via retreat, and it's an impulse the Lakers will need him to outgrow. Making some shots would help. Young man, make some shots! Sheesh.