Alternate headline: I am old and I think young people have terrible taste in music. Via RandBall, music licensing company BMI has compiled the 10 songs played most often at stadiums and arenas during the '09-'10 season. It's a year out of date, but it's probably still pretty accurate. Just replace whatever song featuring Rihanna is on this list with whatever song featuring Rihanna is currently on the charts.
Some stray thoughts:
•We've come a long way from Jock Jams. Where's "Bang the Drum All Day?" Where's "Tootsee Roll?" Where's everything by C&C Music Factory?
•I have never heard that Nickelback song in my life. I had to double check to make sure it actually exists.
G/O Media may get a commission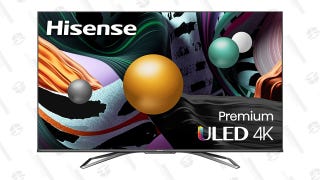 Save $350
Hisense ULED 65" Android 4K HDR Smart TV
•Supposedly, "Car Wash" was the most-played song at MLB games last year. I don't know how this is possible, unless Oakland just had it on a loop all year.
•I was reminded of "Colby Rasmus Fire Burning In The Outfield." So that's a good thing.
•I bet Damon Albarn really regrets recording "Song 2."
•Everyone breathe deeply. By the time the 2011, 2012-at-the-latest, rankings come out, Soulja Boy will be long gone.
'We Will Rock You' Is Top Sports Song Again, But NHL and MLB Teams Differ [BMI]