The best big games are clarifying. They're matches in which the enormity of the moment can turn anyone watching into a fidgeting mess, and in which both teams are given the opportunity to match the game's magnitude with a peak performance. The moment elevates the performances rather than engulfs it, and by the end one or both of the teams will have demonstrated that they truly are a class above. This weekend's Manchester Derby wasn't quite that.
The best sports movies according to Toheeb Jimoh
It was undoubtedly a big game, in some respects a potential title-decider even though it came not even halfway through the season, and it made for great viewing as well. Everything—from the match's aura to Manchester City's season-long threat that they have or will become a legitimately legendary, era-defining team, to Manchester United's own impressive start to the year and obvious desire to knock their rivals off their perch—was set up for this to be the best kind of big game. Unfortunately, neither City's nor United's performances lived up to it. Which if anything might be an even stronger statement in favor of City's domestic superiority.
People like videos so I've put the match highlights above, but this wasn't the kind of match that could accurately be summarized by a neat and tidy collection of each team's best chances. To get a sense of the feeling of the game, you'd need to hear a few minutes of Old Trafford absolutely booming like they were from the first whistle to the last. To get a sense of how this atmosphere played in the minds of the away team, you'd need clips of some of the dozen or so curiously, uncharacteristically poor passing errors City players' nerves seemed to force them into. For the impact the match's air had on the home team, you'd probably need an unedited section of play from right after David Silva scored the match's first goal until right after Marcus Rashford capitalized on a two-fold defensive error to tie the score back up a few minutes later, and in that passage you could see how the crowd practically willed United into their comeback.
If any one moment could encapsulate the match as a whole, it might be those crucial couple minutes at the very end of the match when City pulled off one of the most technically impressive feats of time wasting you'll ever see by standing next to the corner flag, dancing around their opponents' telescoping legs trying to poke the ball away, and then kicking the ball off a Red Devil and winning another throw-in or corner. In those maddening seconds, City showed off their technical class, the ability to dictate the terms of the game regardless of United's protestations, but in service of the banal act of time wasting rather than in any attacking genius.
City controlled the first half, but couldn't create many of the kinds of transcendent, clocklike moments of movement and interplay that have had people wondering if this might be the Premier League's best ever team. Their passing and defensive errors were constant though not all that costly, save the one from which Rashford scored. By the second half, after getting their second goal in fortuitous fashion, City played more like a team trying not to lose than one trying to win, while an aimlessly energetic United huffed and puffed but couldn't ever blow the house down.
G/O Media may get a commission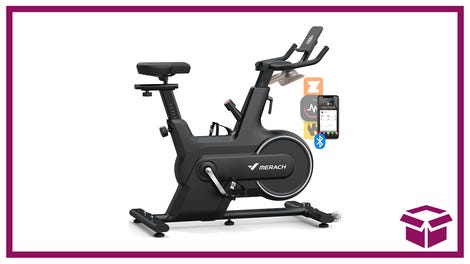 14% off + Coupon
Merach Indoor Cycling Bike
Ultimately, neither team played their best soccer, none of the three goals were anything to fawn over, and at no point did City or United comprehensively dominate their opponent. Yet City were still clearly the better team and deserved to win. This result puts the Citizens 11 points up on their crosstown rivals at the top of the table, which would take a miracle and a couple more crucial injuries (remember, City are already without half their ideal starting defensive line thanks to the John Stones and Benjamin Mendy injuries) for United to run them down. Because of what those three points points mean for their title resume, and because of how an even misfiring City team can still go into their only ostensible title rival's house and beat them at a canter, this latest derby was huge for the victors, the singular inflection point after which we can stop pretending like a title race exists.
However, if City are to go down as a truly generational team, they'll probably need to match the weight of these kinds of big games with performances more befitting of the moment. They are more than capable of doing so. Now just to wait and see if they get around to it.