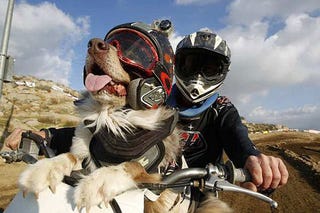 Well, I wouldn't say "likes racing" them, so much as "clings to the handlebars frozen in terror as his owner races them."
That's motocross racer Mike Schelin in the photo, but you don't care about him. You care about Opee the 8-year-old Australian shepherd, who rides shotty for every single one of Schelin's offroad races, including the prestigious Baja 500.
It started when Schelin took Opee for runs in the desert, the dog running behind his bike. But Schelin felt bad for making him so long that he invited him to sit on the tank. He hasn't left since.
Opee has a helmet, goggles, neck brace, inflatable vest, backpack, water supply and several jerseys. He's also got his American Motorcycle Association card, so he can legally race. And he can do more than just race: they were among the top half of finishers in the Baja 500.
When we come up to a jump, I tell him to set it up and he will drop down and give me more of a view," Schelin said. If they're at the bottom of a cliff or big hill and there's too much weight, he just tells Opee to get off and meet him at the top.
And did I mention Opee also works as a search and rescue dog, and visits children in hospitals? This dog is pretty much better and more successful than all of us, in every way.
Opee the off-roading Australian shepherd struts his stuff [LA Times]