This is Brooks. He just won $100,000 at the SEC Championship throwing a football like a straight-up asshole. Who throws a football like that?
This is actually just the tiebreaker round because Lindsay, who actually throws a football like a normal human being, tied Brooks in the first go-round. But Brooks gamed the system, found a repeatable motion and beat Lindsay.
Look at this shit!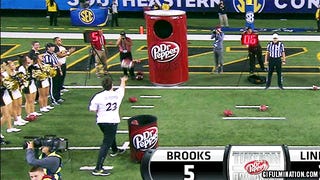 There should be a clause requiring participants to recreate an actual football throwing motion. Dr. Pepper needs to comment on this bullshit right now.
[CBS]