Your p.m. roundup for Oct. 21, the day we learned how Pringles were made. Got any stories or photos for us? Tip your editors.
What we're watching (all times EDT, unless noted): The second round of the LPGA's Taiwan Open is on tape-delay on the Golf Channel at 7:30. There's college football on ESPN (West Virginia-Syracuse) and ESPN2 (Rutgers-Louisville), with both games beginning at 8. There's boxing on Showtime at 11. And NFL Network has Edmonton-Toronto in a CFL game on tape-delay at 3 a.m.
Read Me
Faking it: "As with every other type of scam, the Internet has made it easier for faux athletes to pull one over on the easily duped. In 2000, Herbert John Derungs pretended to be both Derek Jeter and Nomar Garciaparra in order to trick a baseball bat manufacturer. Derungs used fraudulent emails and an array of different screen names to acquire more than $3,000 worth of lumber before getting caught. 'I am interested in your product, due to the fact that Jose Canseco let me use his last year,' wrote Derungs from the address derekjeter222@hotmail.com. He signed the email 'Thanks Derek,' and the company sent him the damn bats." [Slate]
G/O Media may get a commission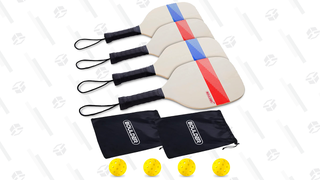 It's Pickleball
Pickleball Sets
This Date In Deadspin History
Oct. 21, 2007: Jake Plummer Is Obsessed With Tiny Blue Balls
Elsewhere
How trades go down: "To find out how it's done, we asked Ed Wade, general manager of the Houston Astros, and Frank Wren, his counterpart with the Atlanta Braves—as well as some of their scouts and players—to reconstruct a swap they made just before baseball's July 31 trading deadline. The process begins with Wade realizing that his slumping Astros need to unload players such as star outfielder Hunter Pence and speedy center fielder Michael Bourn to build for the future." [Business Week]
Take our dome, please!: "A bipartisan group of Minnesota state lawmakers who oppose taxpayer subsidies for a new Minnesota Vikings stadium want to instead simply give the team the Metrodome." [AP]
Your Swiss International Airlines Commercial Interlude:

Oh, OK: "Saints center Olin Kreutz has left the team because he has lost his passion for the game of football, leaving a hole in middle of New Orleans' offensive line. 'He loves the games,' said his agent, Mark Bartelstein. 'He has to love the game. He just hasn't been feeling it.' The Saints will place Kreutz on the left-team list and then eventually release him. By doing that, the team will be able to get out of the guaranteed portion of his contract. Kreutz has been battling a sprain of the medial collateral ligament in his left knee." [ESPN]
Here's hoping it went well: "Detroit Lions running back Jerome Harrison was scheduled to undergo surgery at noon today after a tumor was discovered during a physical that nullified his trade to the Philadelphia Eagles, three teammates said. Harrison's agent, Mitch Frankel, did not immediately respond to text messages seeking comment, and Lions coach Jim Schwartz announced only that Harrison was placed on the reserve/non-football illness list today." [Detroit Free Press]
Merch: Managing editor Tom Scocca and contributing editor Drew Magary have both written books. You can buy Scocca's Beijing Welcomes You: Unveiling the Capital City of the Future here, and Magary's The Postmortal here. Now do it.
Send stories, photos, and anything else you might have to tips@deadspin.com.