Your p.m. roundup for Oct. 18, the day we took dating advice from a gold-digging pole dancer. Video via Busted Coverage. Got any stories or photos for us? Tip your editors.
What we're watching (all times EDT, unless noted): Versus has an NHL game between the Penguins and Wild at 7:30. Fox Sports Net has a soccer match between Manchester United and Otelul Galati at 8. And ESPN2 has a college football game between Florida International and Arkansas State at 8.
Read Me
Our man Nate Jackson, on Tim Tebow: "Often, an offensive coach is only happy if the quarterback does exactly what he (the coach) would have done if he (the coach) were out there playing. Which he isn't. Usually for good reason. Certainly NFL coaches are extremely knowledgeable and are, through and through, football men, who can lead football players and teach them the technique and the concepts that are the cornerstones of quality football teams. But the rigidity in some coach's belief systems do not allow them to cede control to a quarterback who may stray away from 'the plan,' even if the player's instinct may be better than that plan. Broncos coach John Fox is, from the looks of it, not that kind of coach. He is a defensive specialist. He knows that the unpredictable quarterbacks are the most difficult to prepare for. That's why Tebow is starting this week. Fox is ready to play jazz. And that is brave and admirable of him, and all too rare in the modern NFL." [Denver Post]
G/O Media may get a commission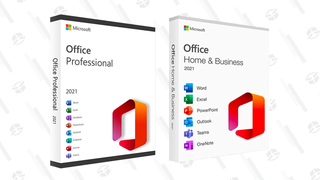 89% off
Microsoft Office Professional 2021 Lifetime License
This Date In Deadspin History
Oct. 18, 2005: Why Your Hometown Columnist Sucks: Bill Plaschke
Elsewhere
The Ponder puns are going to start, too: "Jason LaCanfora of the NFL Network is reporting that Vikings coach Leslie Frazier has made his decision, planning to start rookie Christian Ponder at quarterback this weekend against Green Bay. Frazier told reporters Monday that he would announce his decision on Wednesday. LaCanfora is citing a league source that indicates Ponder has been told he will make his first career start when the Vikings host the Packers at Mall of America Field." [Minneapolis Star-Tribune]
Even Magic is dissing LeBron: "It all started when Johnson, a successful businessman in addition to a Hall of Fame basketball player, television personality and HIV activist, was asked which of his accomplishments he would prefer as his lasting legacy. 'That's easy: Putting people to work in minority communities,' Johnson said. 'There's going to always be great players in basketball. There's going to always be guys who win championships in the NBA, except LeBron …'" [ESPN]
Your Macedonian Children's Skin Care Product Commercial Interlude:

Tradefuckingdeadline: "Two days after Jahvid Best suffered his second concussion of the year, the Detroit Lions added insurance at the running back position, trading for Philadelphia Eagles backup Ronnie Brown. The Eagles receive running back Jerome Harrison and a conditional 2013 draft pick in the deal. Several outlets reported that it will be a seventh-round pick." [Detroit Free Press]
That's because a penalty is the only way to (maybe) keep this league together: Big East commissioner John Marinatto officially announced Tuesday that his conference, in a move to stabilize its current inventory, has voted to raise its exit fees from $5 million to $10 million for any team wishing to move on to another league. But he's not sure if doubling the exit fee will halt defections. 'I don't think there's a magic number that would prevent a school from leaving,' Marinatto said. 'You want schools that want to be there. Penalty is not the best way to keep a league together.'" [New York Daily News]
So what happens when guys keep forgetting their passwords?: "The Ravens players need to enter a user name and password to unlock their iPads. Gaining access to the playbook application requires a second set of credentials. If an incorrect password is entered three times, the app destroys the data on the computer. The Buccaneers' front office has access to the data on its iPads and can remotely destroy information on a device. Certain features are enabled only when the device is logged on to the wireless network at the team's facility. Of course, another security advantage electronic playbacks have over their paper counterparts is the simplest: they cannot be photocopied." [New York Times]
Merch: Managing editor Tom Scocca and contributing editor Drew Magary have both written books. You can buy Scocca's Beijing Welcomes You: Unveiling the Capital City of the Future here, and Magary's The Postmortal here. Now do it.
Send stories, photos, and anything else you might have to tips@deadspin.com.