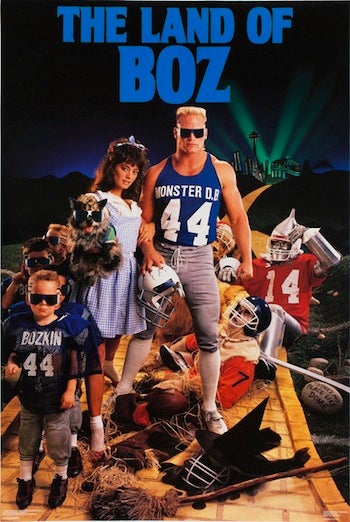 Your p.m. roundup for Oct. 7, the day we learned the National Association of Convenience Stores had a convention. Photo via SI Vault. Got any stories or photos for us? Tip your editors.
What we're watching (all times EDT, unless noted):
• Game 3 of the WNBA Finals between Minnesota and Atlanta is on ESPN2 at 8.
• Game 5 of the NLCS between the Cardinals and Phillies is on TBS at 8:30.
• Golf's Champions Tour Insperity Championship is on tape-delay on the Golf Channel, also at 8:30.
• Boise State-Fresno State college football is on ESPN at 9.
• And at 11, Showtime has boxing, with junior middleweights Jermell Charlo fighting Francisco Santana and lightweights Sharif Bogere taking on Francisco Contreras.
Read Me
The true money men of Moneyball: "Baseball today, by any fair measure, is more competitive than it has ever been, and despite the sport's more restrictive playoff system, a larger percentage of big-league teams have made the postseason and won championships that those in the other major American sports. More interesting, though, is Moneyball's implication that baseball only recently became 'unfair.' And why is that? Because about thirty-five years ago, ballplayers won the right to sell their services to the highest bidder. Throughout the movie, callous players are depicted as devoid of any sense of loyalty, motivated solely by their desire to grab every last dollar on the table. Early on, Oakland general manager Billy Beane, played by Brad Pitt, thinks he has a deal with another money-grubbing agent-one who just happens to be named 'Scott'-only to be told over the phone that it's been abrogated by a slightly higher offer from another team. Later, we see other players obliviously dancing and playing music in the midst of a losing streak, sulking in the batting cage, or otherwise balking at any new development that might help the team win. Beane, on the other hand, used to be one of these uncaring money-grubbers. In fact, the central motif of his life is that he ruined himself by going for the big bucks of an excessive major-league deal, rather than getting a good education at Stanford. He vows never again to do anything "for the money"-a nice prerogative, if you can afford it. Here is our world turned upside down. The players-or workers-are the ones spoiling everything by overvaluing themselves and refusing to turn in a good effort." [Baseball Prospectus]
This Date In Deadspin History
Oct. 7, 2010: Brett Favre's Cell Phone Seduction Of Jenn Sterger
Elsewhere
They quit, he said: San Francisco running back Frank Gore has a simple explanation for how the 49ers turned a 23-3 deficit into a 24-23 victory on Sunday in Philadelphia: The 49ers kept fighting, and the Eagles quit. 'I think playing that second half and the way we came out, the Eagles didn't want to play no more,' Gore said on ESPN First Take. [PFT]
Thuuuuuuh Yankees failed! "'We are the Yankees,' Levine told ESPNNewYork.com Friday as he and the franchise coped with being eliminated at home in Game 5 of the ALDS by the Detroit Tigers. 'That is the way The Boss set it up. When you don't win the World Series, it is a bitter disappointment and not a successful year.'" [ESPN]
Your Tanzania Commercial Interlude:

Spicoli's gonna start again: Curtis Painter will make his second straight start as the Colts' quarterback Sunday against Kansas City. Coach Jim Caldwell says Painter played well enough in Monday night's loss at Tampa Bay to earn the job. Earlier this week, Caldwell implied Painter would start unless Kerry Collins was cleared to play after suffering a concussion against Pittsburgh. As of Friday, Collins had not been cleared." [AP]
The Tigers have set their rotation: "Meanwhile, Leyland announced that after Justin Verlander starts Game 1 of the American League Championship Series, Max Scherzer will start Game 2, Doug Fister will start Game 3 and Rick Porcello will go in Game 4. Earlier this afternoon, Leyland said Porcello would go in Game 2 and Scherzer in Game 4. There was no immediate reasoning given for the switch. Game 3 will be Fister's first postseason start in front of the home fans." [Detroit Free Press]
Merch: Managing editor Tom Scocca and contributing editor Drew Magary have both written books. You can buy Scocca's Beijing Welcomes You: Unveiling the Capital City of the Future here, and Magary's The Postmortal here. Now do it.
Send stories, photos, and anything else you might have to tips@deadspin.com.