Your p.m. roundup for Oct. 20, the day we were depressed to learn what Mr. Belding was up to these days. H/T to Jon for the map. Got any stories or photos for us? Tip your editors.
What we're watching (all times EDT, unless noted): The NHL Network has Capitals-Flyers at 7. Game 2 of the World Series between the Rangers and Cardinals is at 7:30. College football between Bethune-Cookman and Norfolk State is on ESPNU at 7:30. The first round of the LPGA's Taiwan Championship is on tape-delay on the Golf Channel at 7:30. MLS soccer between Philadelphia and New York is on ESPN2 at 8. And college football between UCLA and Arizona is on ESPN at 9.
Read Me
Soccer as artistry: "Style, in soccer as in prose, is less the product of 'personal expression' than of poise, discipline, patience, and infinite care. Most people who kick a ball, like most people who put words down on paper, do so with little distinction: they could be anyone. The more one masters the impersonal demands of technique, however, the more a personal style begins to emerge. Beckenbauer, Cruijff, Pele, Zidane: these figures are as unmistakable on the pitch as are Joyce, Woolf, Nabokov, and Updike on the page. Just as it's difficult to imagine a writer before Joyce who would think to describe the night sky as "The heaventree of stars hung with humid nightblue fruit," it's difficult to imagine a player before Cruijff who would think to pass the ball with the outside of his foot, or a player before Pele who would attempt a dummy as audacious as this." [New Yorker]
G/O Media may get a commission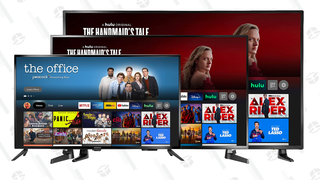 Up to 44% off
Prime Early Access - Insignia Fire TVs
This Date In Deadspin History
Oct. 20, 2008: The Angryville Chronicles: Stories About Philadelphia's Ferociously Loyal, Amusingly Vile Fanbase
Elsewhere
Patti Smith is awesome: "Patti Smith saved rock by showing that the past could be as unfathomable and fucked up and seductive as the present. She made nostalgia dangerous. Before Horses, rock's sense of its own past was one of cozy innocence, the gooey retro-world of Grease (which opened on Broadway three years before Horses came out) and poodle skirts and jukeboxes warbling in malt shoppes. Horses jolted rock forward and opened the way for punk by positing a darker and infinitely more interesting version of the retro-world, one in which the blue jeans and old, gold Chevies were the outer masks of a timeless - and thrilling and scary - eroticism and violence." [Grantland]
Emeritus on La Russa: "The reason I've always loved La Russa is because he's the only person I know who handles Cardinals losses worse than I do, the only person who looks more miserable during a close, important game than I do. He still does look like that, of course. But he's on the best roll of his life right now." [New York]
Your Turkmenistan Feminine Napkin Commercial Interlude:

A way for NBA fans to get their fix during the lockout: "...NBA fans need to direct their basketball-starved attention one level down to the college game. And for those NBA fans who are not too distraught by the lockout to acquiesce, here is a guide for which college basketball team each should follow based on his or her NBA allegiance." [Midwest Sports Fans]
For fuck's sake, people: "I bring this up because people seem incapable of processing the difference between being a passionate fan and being a complete goon. Last night on Twitter, as part of an assignment with the MLB Network, Shane Victorino live-tweeted Game 1 of the World Series. While most people reacted calmly and rationally to this, some people lost their backflipping minds. People replied to Shane saying he shouldn't be tweeting about the World Series for a variety of reasons: because 'fans were still hurting,' because he should be too angry or hurt to watch it, because he should hate the Cardinals for eliminating them, or because it showed he wasn't truly upset about getting eliminated. And to those people, I say knock that crap off." [The Fightins]
The code for wearing a hockey jersey: "We call violations of this system 'jersey fouls.' A few of you have asked what exactly a jersey foul is while many of you have asked for clarifications to this system. Hopefully today's post will answer all these questions." [Empty Netters]
Merch: Managing editor Tom Scocca and contributing editor Drew Magary have both written books. You can buy Scocca's Beijing Welcomes You: Unveiling the Capital City of the Future here, and Magary's The Postmortal here. Now do it.
Send stories, photos, and anything else you might have to tips@deadspin.com.