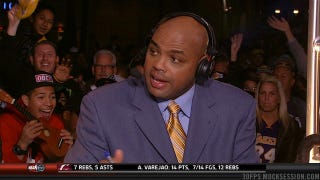 Your morning roundup for Jan. 17, the day we learned virginity does not prohibit reproduction or porn stardom. Photo via Mocksession. Got any stories or photos for us? Tip your editors.

What we watched: Mavs at Lakers. The impossibly slow pace of this game was only mitigated by an exciting finish, in which Kobe Bryant actually gave up the ball to Derek Fisher for the game-winning three. The Staples Center ovation for Lamar Odom was also nice, even if his trade facilitated a further state of decline for both teams.

What we're watching (all times EST, unless noted): Michigan State at Michigan (ESPN), Auburn at LSU (ESPNU) and Georgetown at DePaul (ESPN2) in men's college basketball at 7. San Antonio at Miami in NBA basketball at 7:30 (NBATV). Nashville at New York in NHL hockey at 7:30 (NBCSN). Arkansas at Kentucky (ESPN) and Maryland at Florida State (ESPNU) in men's college basketball at 9. Australian Open, 2nd round at 9 (ESPN2).
Read Me
Watching boxing in New Orleans with Hunter S. Thompson: "Inga called the hotel manager from my room and told him, in a voice edged with professional disappointment, that she was leaving early because of a 'personal matter.' After she hung up, she dialed room service and handed me the phone. She directed me to order two dozen oysters, a fifth of tequila, and two Caesar salads. Then, with a total absence of modesty, she quickly stripped off her clothes, walked into the bathroom, and a moment later I heard the water running in the shower. I took a seat on the edge of the bed and glanced around the room. My bag, still packed, was sitting on the luggage rack next to the dresser. Inside my leather Dopp kit were four grams of Peruvian flake that would soon be chopped into long thick lines on the coffee table's glass top. It was now 11 o'clock in the morning. I had been in New Orleans for less than an hour." [Los Angeles Review of Books]
This Date In Deadspin History
Jan. 17, 2010: When Auburn Fans Descend On Walmart
Elsewhere
Jay-Z getting clean: "The 'Empire State of Mind' rapper released a poem to his eight-day-old child, Blue Ivy Carter, vowing to never again use the word 'b—-h,' NME reported. 'Before I got in the game, made a change, and got rich/I didn't think hard about using the word b—-h,' he wrote. 'I rapped, I flipped it, I sold it, I lived it/Now with my daughter in this world I curse those that give it.' [NY Daily News]
Reserves don't matter anyway: "North Carolina coach Roy Williams said he apologized Monday to the five players left on the court for the final 14.2 seconds of his team's 33-point loss at Florida State on Saturday. The coach said on his radio show that he was not aware that he had left the quintet of reserves and walk-ons on the Tucker Center floor Saturday — while he and most of the rest of the team left early to avoid the floor-rushing crowd — until he watched the tape of the loss. 'I said, 'Guys, I apologize. There was a miscommunication between [assistant] coach [Joe] Holladay and myself. I would never have left you out there to play the game.' he said. 'What I wanted to do — needless to say, we're not going to erase a 33-point lead with 14 seconds left — [so] I was trying to get my entire team off the court, apologize to Florida State, make sure they weren't interpreting it the wrong way; I was just doing it for safety.'" [ESPN]
Your Cursing Child Interlude:
NBA owners being cheap: "In a week where Kobe oiled up his shootin' arm and D-Wade screwed up his ankle and the Bulls' Zombies kept winning despite playing nine games in six days (I may have that backward), owners kept their powder — and their checkbooks — dry. And it looks like, for the most part, they will keep on keeping 'em dry, continuing the trend of the last few years. With less than 10 days before the Jan. 25 deadline for contract extensions for the Class of 2008, only one of the 30 first-round picks from that Draft — Derrick Rose, natch — has received a new deal. And not too many of Rose's fellow first-rounders are going to join him. At the moment, only a handful of players — Minnesota's Kevin Love, Denver's Danilo Gallinari and Oklahoma City's Russell Westbrook — are even in the hunt to get deals, though several players' agents are engaged, or will soon engage, in conversations with their respective teams. But so far, no one's betting on the come for an Eric Gordon, or a Roy Hibbert, or a JaVale McGee. There's always someone that gets a deal below the radar, as when Phoenix's Jared Dudley got a five-year, $22.5 million extension last year. So is it possible that the Wolves give Michael Beasley, taken second overall by Miami in '08, an extension? One supposes. But not likely." [NBA.com]
Just hand over the Lombardi Trophy already: "'We're not going to be denied,' safety Antrel Rolle said of the Giants' 'swagged out' mental state of mind at the moment. 'We understand what we have as a team. It's not all about talent, it's all about chemistry. We're jelling at this point.'" [ESPN]
Send stories, photos, and anything else you might have to tips@deadspin.com.