The image of two figure skaters cheerfully performing a routine in concentration camp uniforms with yellow stars will likely provoke an immediate and harsh reaction, but the intent behind it might make it a little less tasteless. (Your mileage may vary.)
Jokic? Embiid? The NBA MVP is obvious... right? | Keep it a Buck(et)
In 1997, Italian comedian Roberto Benigni released Life Is Beautiful, a film where a father (Benigni) and his son are taken to a concentration camp. To keep his son distracted from the horror, the father pretends that their internment is a game, and if the son reaches a certain number of points, he will win a tank. Comedy and the Holocaust wouldn't seem like an appropriate pairing, but Life Is Beautiful somehow pulled it off, because critics didn't unanimously call it a horrendous idea for a movie.
Benigni's film was the inspiration for ice dancer Tatiana Navka and her competitive partner Andrey Burkovskiy. The pair skated to Noa's "Beautiful That Way," a song from the soundtrack, on Saturday's edition of the Russian reality show Ice Age. Benigni's lighthearted tone worked for him, but Navka and Burkovskiy's effort was a little jarring. Maybe it was the part two and a half minutes in, where the duo picked up their feet and pretended to run from the sound of a dog barking, or maybe it was at the end of the number, when Burkovskiy faded into the darkness and was "shot" as Navka solemnly held an invisible child. Maybe figure skating wasn't the best medium for this subject matter.
G/O Media may get a commission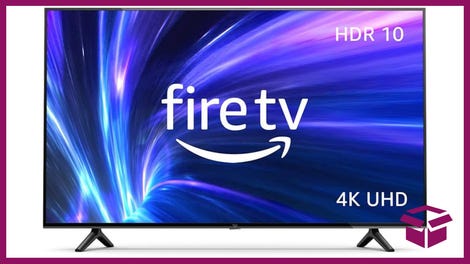 42% Off
Amazon Fire TV 50" 4K Smart TV
In a roughly translated Instagram post, Navka explained that Life Is Beautiful is one of her favorite movies. According to the translation, Navka wrote, "Our children need to know and remember that terrible time, which I hope, God willing, they will never know!"
According to that explanation, Navka and Burkovskiy weren't making light of the Holocaust. They were trying to convey the horrors with an imitation of Benigni. Grade their success as you see fit; the judges gave the routine a perfect score.