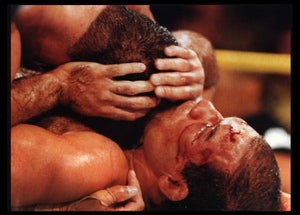 John McCain once called the Ultimate Fighting Championship "human cockfighting." (He meant that in a bad way.) That was in the 1990s, and McCain was leading an effort to ban the sport.
But UFC cleaned up its act and has prospered to the point that this weekend's fight between Chuck Liddell and Tito Ortiz will get more pay-per-view buys than any boxing match this year. UFC is even entering the mainstream, and papers like the Los Angeles Times, which ran an article about UFC by Dave Meltzer of the Wrestling Observer Newsletter, are starting to take notice. Even 60 Minutes did a piece on UFC.
Popularity comes at a price, though, and as far as I'm concerned all the fun has been taken out of UFC. The list of things the UFC guys can't do includes:
• Eye gouging of any kind.
• Biting.
• Hair pulling.
• Throat strikes of any kind, including, without limitation, grabbing the trachea.
• Groin attacks of any kind.
• Putting a finger into any orifice or into any cut or laceration on an opponent.
What a bunch of pussies.
UFC Is Looking At A Bright Future [Los Angeles Times]
UFC Rules [UFC]