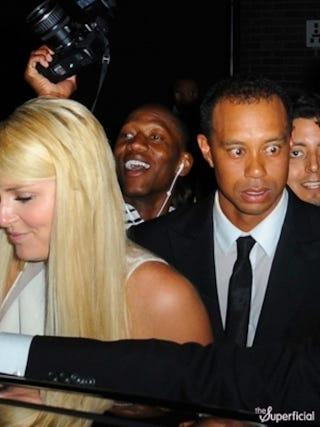 Tiger Woods went to the Met Gala with his new girlfriend, Olympic skier Lindsay Vonn, on Monday night. Apparently, he got completely wasted while he was there.
Us Magazine has the scoop:
"Tiger looked uncomfortable," an onlooker at the Boom Boom Room says. The twosome checked out the Manhattan skyline (with a tux-clad Woods embracing Vonn from behind) and then took their seats, where they chatted, drank, held hands and kissed for much the night. At one point in the evening, the once-divorced golfer got up to dance awkwardly, bopping from side to side and grabbing Vonn's butt affectionately as she giggled.

When it was time to go, around 2 a.m., a seemingly tipsy Woods fell while walking up a small flight of stairs—and didn't move from the spot until Vonn, clenching her teeth and looking embarrassed, helped him up and guided him (swaying a bit as he walked) to the exit, according to a witness.
Thankfully, our friends at The Superficial were also at the event, and were able to snap a few pictures of Tiger and Vonn as they left the gala. That's where that wonderful picture at the top of the page—in which Tiger looks like he is FREAKING OUT BECAUSE OF ALL THE LIQUOR OH MY GOD WHAT DO THEY PUT IN TEQUILA THESE DAYS?—comes from. The Superficial has many more photos that are just as hilarious, so you need to get over there right now and look at them.