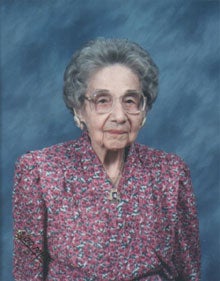 OK, Grandma ... put your hands in the air ... slowly ... step away from the bingo machine ... put down the knitting needles ... we can do this the easy way, or the hard way. It's your choice.
Acting on an anonymous tip, armed agents raided the Lake Elsinore Elks Lodge and found an envelope containing $50.00, which was to be paid to the winner of an impromptu Monday Night Football pool. Margaret Hamblin, a 73 year-old great-grandmother, and 39 year-old volunteer waitress Cari Gardner both pleaded not guilty to misdemeanor charges of operating an illegal gambling operation. Both are due in court on February 28 for a preliminary hearing, where the judge will determine if they should stand trial.
If you don't think that anonymous tip came from Edna Granderson, Margaret's schoolgirl rival for the past 64 years, well, you don't know Edna.
Agents Swoop Down On High Rolling Elks Club [West Side Slant]
(Note: The woman pictured is not Margaret Hamblin; it's just some random old lady.)