Last week, USWNT legend Abby Wambach played the final match of her career with the national team. This should have been time only for rapturous praise of her long and illustrious career, with everyone acknowledging everything she's done for the sport as she rode off into the sunset (or whatever counts as "the sunset" for a woman who has set her post-playing goals at nothing short of changing the world).
The pomp and circumstance surrounding Wambach's final match did inspire a fair bit of that, but were also marred by a particularly bad take that was nominally about the makeup of the USMNT, but was also about subjects way deeper than that. These statements of hers became A Thing, and fellow retired American soccer hero Landon Donovan felt the need to nudge on this ball of Thingness until it rolled and rolled into an even bigger and dumber Thing, which it remains. And here we just wanted to let Wambach be dumb by herself during her special time.
During an interview on Bill Simmons's podcast, Wambach was asked about her feelings on the job USMNT manager Jürgen Klinsmann has done. Her answer started out fair enough, advocating for Klinsmann's firing, but quickly veered into strange territory as she railed against the coach's use of dual-national players. From ESPN:
"I would definitely fire Jurgen [Klinsmann]. Sorry Sunil [Gulati], sorry, U.S. soccer, but I don't think Jurgen and this litmus test on him has worked. He hasn't really focused, I feel, enough attention on the youth programs. Although he says he has, I don't think that he has," Wambach told Simmons. "The way that he has brought in a bunch of these foreign guys is not something I believe in wholeheartedly. I don't believe in it. I don't believe in it in my heart.

"And I love Jermaine Jones, I love watching him play, and I love Fabian Johnson, and he plays in Germany and is actually killing it right now after being sent home for 'faking an injury.' But I just think that this experiment that U.S. Soccer has given Jurgen isn't one that personally I'm into. It's gotta be interesting for those guys to see their coach take off in a helicopter and fly home to his home and then back to training."
This is so nonsensical on its face that you want to hold up your hands and back away. Obviously, what Wambach is saying here is pretty stupid. National soccer teams incorporating players born and/or raised elsewhere is as old as the game itself, a longstanding tradition in even U.S. soccer history, and in all an odd thing to get upset over, since just about every other country that's even remotely serious about the sport has done it to little acrimony. On top of that, when the nationalizing of foreign-born players has rankled people elsewhere, it's usually when a country tries to give citizenship to a player with little-to-no familial tie to their new country, which isn't the case for the likes of Jermaine Jones, Fabian Johnson, and many of the other dual-nationals Klinsmann has successfully recruited, who are children of an American parent. These guys aren't the Dominica ski team. It's hard to see a non-Trumpian definition of Americanness that doesn't include the offspring of American citizens. (I wonder how Wambach's own USWNT teammate, the Canada-born Sydney Leroux, feels about Wambach not believing in bringing in foreign players.)

After the original comments hit the streets, Landon Donovan added his two cents. He was asked about the topic on a radio show and spouted off some more garbage. From SI:
"I wouldn't feel as good about it if we had a team full of players that didn't really grow up or didn't really identify as being American," Donovan said. "It's nothing against them. Fabian Johnson is as good a player as there is maybe in the Bundesliga right now and I love him and he's a nice kid. I love Jermaine (Jones), really nice kids and they're good teammates and I like having them on the team. But if we had a team full of players like that it just wouldn't feel the same as if we developed a team then that went on and won a World Cup. There's just something more special about all of us being a part of it and growing it and building it. If it's win at all costs, that's fine, but in my opinion it's not win at all costs, it's win in a way that makes us feel proud of it."

Donovan also said that he told Klinsmann, when he was cut from the 2014 World Cup team, that, "There's at least a few players that are on your World Cup roster that are going that don't care in the same way that I do. I grew up as a part of this whole system. I feel like it is a part of me and I think there's players in that locker room who if you go three and out in the World Cup they'll go back to their club teams and won't even blink twice, whereas if we go three and out I'll be devastated and I think that's a piece that's important."
G/O Media may get a commission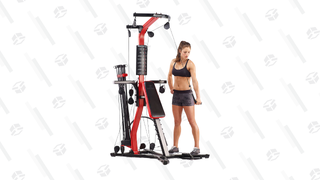 31% Off
Bowflex PR3000 Home Gym
The very least you can say about Donovan's argument is that he sets out some sort of criteria for who should and shouldn't qualify as American enough to lose in the World Cup's Round of 16, though his vagueness and simple-headed test—they gotta really feel American, man; in, like, their bones—quickly subtracts any points he would get for specificity.
In the rush to spell out how xenophobic and idiotic and retrograde Donovan's and Wambach's opinions are here, it's easy to gloss over one thing: there is a fleck of a kernel of a nugget of a worthwhile sentiment underneath at least the impulse to want the U.S. national teams to be represented by born-and-bred Americans.
All international sports competitions are, at heart, superiority tests pitting one group of people against another. The United States vacuuming up more medals—but don't look at only golds! And not per capita either!—than the rest of the world in next summer's Olympics will be cool because it will scratch that itch deep in our hindbrains that wants to demonstrate that We really are better, faster, stronger, and smarter than Them. When the people representing Us out on the racing blocks and the basketball court and the soccer pitch aren't the ones we played with in high school or competed against in AAU or saw honored with the national athletic achievement awards—when they no longer can really be said to be Us at all—it really does defeat the purpose and a large part of the enjoyment of the whole thing.
On a more direct level, this is an especially serious concern in soccer. As we've said before, the ostensible objective of successful men's and women's national soccer teams is to win international tournaments. But both necessary to actualize that goal and an arguably larger and more important aspiration is to spot and cultivate great American soccer players. Sure, it would be awesome to win a couple matches in the knockout rounds in World Cups, but to some (me included), it would be even doper if we had a great player who was a key contributor to a team that regularly made deep runs in the Champions League. (This is slightly academic anyway; one may not even be possible without the other.)
In order to get the men's national team specifically where everyone wants it, we need to produce a large number of good-to-great players on these shores. We need to be sure that the next player with Lionel Messi's eye for goal or Yaya Touré's power and technique born in America can realize his potential within the American system. (Even if that system entails molding them here until the academies of Europe swoop in to finish shaping them into the finished product, sort of like Giuseppe Rossi.) Calling in guys who emerged solely from another country's infrastructure is perfectly fine and at this point in our development necessary for our short- and long-term aims, but the core of the USMNT, if it should one day be as good as Klinsmann and Wambach and Donovan want it to be, has to be stocked with a bunch of players made in America.
Again, this is an argument Wambach and Donovan were only, in the most charitable of interpretations, hinting at. Their focus on a distaste for "these foreign guys" who feign Americanness a couple times a month for some easy international caps is stupid. The ideas themselves are dumb and they don't even accurately reflect the reality of our players. But beneath that, or at least somewhere adjacent, is a real concern that shouldn't be ignored out of hand. The ironic part here is that Klinsmann himself is probably more aware of and devoted to that idea than anyone, and that as we move on into a new year, he'll be working hard on it while Wambach and Donovan's takes drift down to nowhere.
Photo via Getty