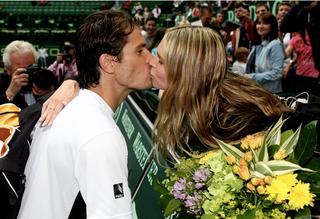 Got an image you'd like to see in here first thing in the morning? Send it to tips@deadspin.com. Subject: Morning crap
This is German tennis player Tommy Haas at the receiving end of a kiss from his model/actress girlfriend, Sara Foster, after he upset top-seeded Novak Djovovic to take the Halle tennis tournament. Foster is best known for her stints on Entourage and her top ten status in Maxim's HotGirlsOhyMyGod!TheyAreSOOOOOHOT annual issue where they arbitrarily rank girls based on hotness, etc.
The other option for the morning photo was this picture sent in my over-the-moon Penguins' fan Anthony D. who decided to send me a picture of his friend's freshly-tattooed ass.
Live in NYC. Sucks for the Red Wings. Paid wayyyy to much for this. Sorry for the graphic image! GO PENS!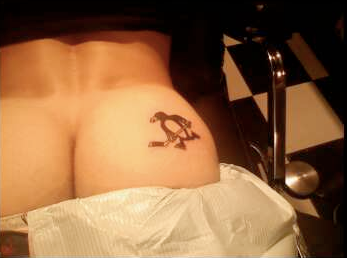 I hope you support my decision.
****
Good morning. It's Sunday. I'm beat.