Every morning, the fine folks at Sports Radio Interviews sift through the a.m. drive-time chatter to bring you the best interviews with coaches, players, and personalities across the sports landscape. Today: the former Ron Artest is still getting his new credit cards.
The best sports movies according to Toheeb Jimoh
Metta World Peace joined The Dan Patrick Show to talk about making the full legal transition to his new name, if there's a hyphen anywhere in the spelling, what other names he considered changing to, still having an interest in trying out for an NFL team if the opportunity presents itself, why he's been more focused on finding other work to do while the lockout drags on rather than paying close attention to the negotiations, what kinds of work he'd stay busy with if the season were canceled, and where his music career stands right now.
Has he made the full transition to his new name, including getting things like his credit cards changed:
"Almost. The credit cards are almost in my name, but the license, and there's a couple of other things I've got to sign now. Insurance and all that stuff, everything's changing over."
Is there a hyphen anywhere in his name?
"No hyphen. It's so cool, one of my friends, he just changed his name, and it's now just Omar. He had a last name, and he changed it to just one name. And Nene is just one name I think. Yeah, it's just Nene, which is kind of cool, so you can kind of have your name whatever way you want it."
G/O Media may get a commission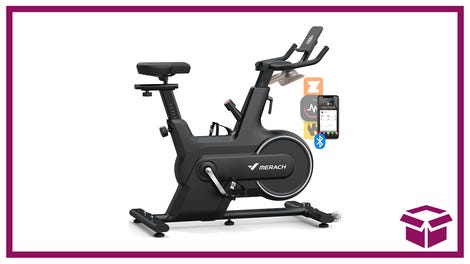 14% off + Coupon
Merach Indoor Cycling Bike
On what other names he considered changing to before deciding on Metta World Peace:
"Well my other options were….I really wanted to change it to Queensbridge at first. I really wanted to do that."
Wait, was it going to be Queens Bridge - two words - or just Queensbridge:
"Queensbridge for the last name and something else for the first name. But that was like three years ago, and now all these names are not making a lot of sense to me, because it had no real meaning to it like that on a bigger scale. And a year ago, I came back to my mom and said 'oh, wow, world peace, that's the best thing you can have. So let's just do it.'"
If he'd still like to try to try out for an NFL team:
"If the opportunity ever presents itself for a tryout with the right timing. This year I think was the right timing for a tryout, it was good timing you know, I just couldn't find a good agent. I had a couple agents I was working with, but they were just BS'ing me around. So hopefully if I ever have that good timing again, I have a good agent, a good football agent."
Whether he's missed a paycheck yet due to the ongoing lockout:
"I guess so, I guess so. But it's okay. I mean, some guys are suffering that probably didn't play in the league as certain people played. And a lot of workers, and the bars for after the game - so I'm sure a lot of people have."
If a settlement to the lockout might be close?
"I'm not sure. I really haven't been paying it no attention because it's not really my business. Because I come here to play, and I just figured if I can't play, I have to find something else to do. It's like getting laid off from a job. One of my buddies got laid off from a banking job, and now he's a mover. So it's like, when you get laid off or the economy's rough and you ain't got no job, you've got to find something else to do. So I've just been trying to find other things to do."
What other job(s) would he do if the season were canceled:
"I've just been focusing on trying to find things like movies, and just staying involved in the community, doing a lot of charity stuff. We just donated a lot of money from the ring raffle; we donated almost $300,000 from the raffle. So I'm staying busy in the community, and I'm about to start working with an Orange County prison here in LA and a Little Rock prison in Arkansas - just doing different things with inmates and helping them rehabilitate and things like that. So, just staying involved with community, I'll try to do that until the season starts."
If he's still rapping or writing music?
"No, not really. I mean, not me. I like to still do music because I have a passion for it, but my artists are doing excellent. They're making a lot of good music. So I'm still involved in music, but not as much as I was before."
This post, written by Michael Bean, appears courtesy of Sports Radio Interviews. For the complete highlights of the interview, as well as audio, click here.
More from Sports Radio Interviews
• An OSU booster says Gene Smith is a lying liar.
• Bob Knight thinks realignment will end with conferences ditching the NCAA altogether.
• Mike Quade didn't belong in Theo Epstein's braintrust.