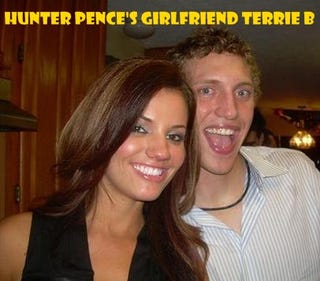 And let's just start to set the bar incredily low early to kick off the Memorial Day Weekend by linking to Astros' centerfielder Hunter Pence's lady friend. According to BumpShack (that's where it's at), the woman's name is Terri B, who appears to be eligible for her inclusion on this site because of her pronounced bumpyness. (No Es Seguro Para El Trabajo!)
Anyway, what's more amusing than Pence's dime is the name of the site some of her bumpalicious photos are featured: Pink Meat Company? And, no, Terri is not a representative for Hatfield ham. Regardless, throw Pink Meat Company into the Fantasy Football name pool next year.
Tomorrow and the half-day Friday, things will most likely shift to summertime mode, so hopefully nothing requiring any ounce of reverence will make the news. Translation: Lots of photos of Hatfield hams.
Hunter Pence's Smoking Hot Girlfriend [Bumpshack] [via Big Lead]