If you'd asked the figure skating hivemind before the Olympics to bet on the results of the ladies competition, 90 percent of the money would have gone on defending Olympic champion Yuna Kim. Kim, the South Korean superstar who cleaned up in Vancouver with a record-high score, has long been considered the reigning queen of figure skating, challenged only the 2010 silver medalist, Japan's Mao Asada. That all changed last week.
At the inaugural Olympic team skating competition, 15-year-old Russian phenom Yulia Lipnitskaya delivered two technically excellent, appropriately dramatic, and exceptionally high-scoring programs, officially transcending rising star status to move squarely into the ranks of the elite.
Is it too soon for Lipnitskaya's moment? Well, she's very young, and she's only been competing on the senior level for a year. But judging from the history of the sport, it would be foolish to dismiss the Olympic potential of a dark-horse teenage jumping machine. See: Oksana Baiul, Sarah Hughes, and Tara Lipinski, who was just two days younger than Lipnitskaya will be when medals are decided. Look, I am not a gambling woman (because I'm a freelance writer covering Olympic figure skating, and subsequently broke as hell), but you can bet your ass Yulia's going to make Yuna work for Olympic Gold. And she's got a good shot at winning it.
Here's why:
1. She's consistent.
Judges can't stand a skater who seems "volatile." Erraticism can belie a lack of preparation, discipline, and commitment, while consistency denotes the straight-A-student-level determination so beloved by adult authority figures. With consistent skaters–the Kristi Yamaguchis and Tara Lipinskis of the world–­you always know what you're going to get. Solid programs, solid jumps, solid scores. The inconsistent skaters–the Tonya Hardings, Sasha Cohens, and Jeremy Abbotts–tend to have higher highs and much, much lower lows. Sometimes all in the span of one program. But so much about figure skating's scoring system is subjective, and reputation is everything. If a skater is consistent, her scores tend to improve gradually over the course of a season. (Theoretically, as she improves her program technically – but also, more realistically, as she develops a reputation for excellence.) If she's inconsistent, or out of favor, she wont get the high grades of execution and program component marks that can elevate her score to the next level.
G/O Media may get a commission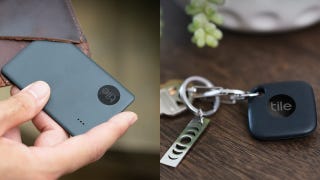 Up to 35% off
Tile Item Trackers
Look at the comparative scores for Gracie Gold and Lipnitskaya in the ladies free skate portion of the Olympic team skating event. Less than a point separates the two programs in terms of technical difficulty, and both women skated very cleanly, with one error each (the same error, in fact). Yet Lipnitskaya ended up leading Gold by more than 12 points overall. Gold, who is known for her high, springy jumps, earned lower grades of execution on both those and her spins; she also scored consistently worse than Lipnitskaya on the program components score, which judges less tangible skills, such as "use of finesse to reflect the nuances of the music," and "intellectual involvement."
Whether or not Lipnitskaya's execution was truly that much better than Gold's is both subjective and debatable. But what's not is that Lipnitskaya had a consistently great season, and her scores are going up, up, up. Gold, until very recently, was viewed as hit or miss. Inconsistent, in other words.
Lipnitskaya, needless to say, is the consistent type of skater. She's described in profiles as intense and self-punishing, a tireless perfectionist with a limitless appetite for hard work and practice. This quality has paid off in her jumping technique–especially because she's not actually that great a jumper. Lipnitskaya executes her jumps with an almost mechanical precision, her body straight as a rail and perfectly closed in the air, allowing her to rotate at lightning-fast speed, but, as these things go, they're not huge. It's hard to imagine her double axel as a triple. Moreover, she has a tendency to put her weight on the wrong part of her blade during the takeoff to her lutz jump. In a vacuum, judges might not think much of her jumps either way. But because it's so rare for skaters who perform on the most elite level to screw up their jumps as infrequently as Lipnitskaya does, she's developed a reputation for excellence. Having a reputation for being good at a skill inevitably means you get better scores for that skill.
Is it fair? No. But this is figure skating. The whole history of this sport is grounded in subjectivity and scandal.
2. She's good at hiding her weaknesses.
Lipnitskaya's jumping consistency speaks to another of her most valuable assets, which is the uncanny ability to disguise her weaknesses as strengths. Even a year ago, the skater–then barely a teenager–displayed the one-note artistry that can sink even the most technically proficient competitor. At the 2013 World Junior Championships, for instance, her skating had something of a soulless quality. She glided quickly from element to element, puncturing the performance with those efficiently-rotated jumps, but she didn't really seem to connect with the music.
Of course, this is understandable. Lipnitskaya is a very young woman, and artistic ability is something that often comes with experience and age. One can't speed up the process of maturity–and Lipnitskaya, whose slight body still has time to develop, change, and otherwise wreak havoc on her aerodynamics–probably wouldn't want to anyway. But because she stands little chance of becoming a Michelle Kwan-level performer overnight, her team came up with an alternate solution for her artistic shortcomings: They threw some age-appropriate theatrics into her performances.
In this season's programs, Lipnitskaya plays up her youthfulness almost hammily. In her short program, to Mark Minkov's "You Don't Give Up On Love," she begins and ends the routine crouched on the ice, tracing her finger in a heart pattern, like a child drawing on the sidewalk in chalk. In her free skate, which she performs to music from Schindler's List, she again uses her childishness as an asset. Evoking the image of the film's little girl in the red coat–very literally, in a costume that looks like a red coat–she begins the program with some more acting, mournfully turning away from someone or something in the distance before thinking better of it, doubling back, directing a soulful gaze at the cameras, and trotting toward that which she'd given up on. It's cheesy but evocative and, along with the beautiful, balletic extension of her jelly-like limbs–the youthful flexibility of which are also played up for maximum benefit, both artistically and technically–it's a clever way to disguise her relative immaturity as a skater.
3. She's peaking at just the right time.
Being a "mature" skater is all well and good, but it's not necessarily going to win you Olympic gold. Look at Michelle Kwan, who–for all you non-fanatics–only ever won silver and bronze. Championships are determined in large part by two things: the difficulty of a skater's jumps (and her ability to execute them), and the momentum of her career.
Lipnitskaya has difficult enough jumps, near-perfect execution, and after last week she's got all the momentum in the world. Since Vancouver, there's been a relative power vacuum in women's skating: Kim took two years off after winning the gold medal in Vancouver, and Asada spent some time reworking her jumping technique. Italy's Carolina Kostner, known for her grace and speed, did her part to fill the void, but she's never been viewed as a major threat to Kim or Asada. Lipnitskaya, meanwhile, is hitting her stride at just the right moment. She steadily improved her scores toward the end of the 2013-2014 season, culminating in a win over Kostner and fellow Russian star Adelina Sotnikova at Europeans. Most critically, she gained traction in Sochi with her performances in the team skating competition, earning career high scores for both her short and free programs and taking advantage of the Kim-less event (South Korea didn't qualify to field a team) to soar above the competition. The competition served as a stage-setter for Lipnitskaya's rise, a momentum-builder just days before the main event.
While anything could happen over the next two days, it's hardly anyone's game. It's not Ashley Wagner's game. It's not Gracie Gold's game (not for gold, anyway). It's not really Kostner's game. It's barely even looking like Asada's game–unless she lands her elusive triple axel or tweaks her program so she doesn't need it. At the moment, the ladies competition is looking like a showdown between Queen Yuna, the graceful 23-year-old veteran, versus Stone-Cold Yulia, the take-no-prisoners 15-year-old newbie. The mere fact that Lipnitskaya was able to insert herself into the conversation—and the global consciousness—so effectively means she's more than done her job already. After all, for all the efforts to standardize the judging process, figure skating is (do I even need to say it again?) an inherently subjective sport. Half the battle for any skater is in creating the impression that you're good enough to win.
That said, Kim has yet to skate. She's only recently even arrived in Sochi. The narrative could flip the second she takes her place in the middle of the ice. And, unlike the uber-intense Lipnitskaya, she doesn't seem to be sweating the competition too hard.
"I am not trying my best because it is the Olympics," she said. "I try my best always."
---
Lucy Madison is a NYC-based writer and reporter. Her work has appeared at the Awl, the Hairpin, Interview, CBS News, and more. You can follow her on Twitter here.