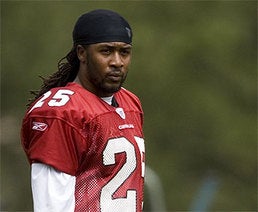 Cornerback Eric Green, who's bounced around from practice squad to practice squad since being released by the Cardinals after last season, was hit with a lawsuit from a transgendered woman who claims Green forcibly sodomized her.
Nothing good happens in Scottsdale, Arizona. And absolutely nothing good happens in a Scottsdale casino. That's where Green met post-op transsexual Angelina Mavilia in early 2009, according to her lawsuit.
They went back to his condo, where Green, 27, assaulted her, she charges. He then got "extremely agitated and threatening," according to court documents, and warned: "This never happened. You'd better not tell."
This is not how I recall The Crying Game ending. Mavilia is asking for $10 million. It is curious that the suit took a year to file — and no criminal charges were ever sought. But if we're going to bust Ben Roethlisberger's hump for dabbling with the crazy hotel help, you're damn right we're going to cover it when someone gets sued by a transsexual.
NFL player Eric Green forcibly sodomized transgender New Yorker Angelina Mavilia, her lawsuit claims [NY Daily News]