So, that was gross. Vikings-Packers finished with a score of a million to a little, or somewhere in that range. (I have to look it up. I didn't watch, because I don't hate myself.) And yet, it wasn't close to the biggest blowout nor the worst game on the Thursday night slate so far.
Jokic? Embiid? The NBA MVP is obvious... right? | Keep it a Buck(et)
In the four short-week Thursday games so far, the average margin of victory has been 31.25 points. For your records, it's been Baltimore 26-6 over Pittsburgh, Atlanta 56-14 over Tampa Bay, the Giants 45-14 over Washington, and Green Bay 42-10 over Minnesota. In all other NFL games, the average margin of victory is right around 12.5.
Anecdotally, Thursday games are painted as sloppy, boring blowouts. There have been attempts to quantify these perceptions, and they've come up with mixed results. (Basically: it's tough to agree on metrics for sloppiness or excitement; but, because of TV deals, Thursday games tend to feature worse teams; still, the games are probably about average, but an average NFL game looks worse when there's no other games on to flip to.)
G/O Media may get a commission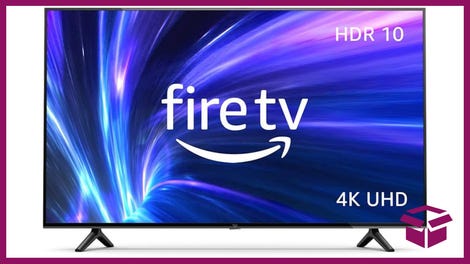 42% Off
Amazon Fire TV 50" 4K Smart TV
But with a sample size of one, this is why last night's game was demonstrably less interesting, and probably a bigger blowout, simply by virtue of being a Thursday game.
"Unfortunately, we played on Thursday," added Bridgewater, unwittingly coining the perfect Thursday Night Football motto.
Football's hard, man. It hurts. Even without an injury like Bridgewater's sprained ankle, the human body needs more than four days to properly recover from a game. (It needs more than seven days to properly recover, but that's something else entirely.) Even if players can go on Thursdays, they're going to be sensibly worse at their jobs. That's a recipe for ugly football.
The NFL hears your complaints. It doesn't want crap games any more than you do. But the league's response—a couple of oddly specific statistics tweeted by a flack—is not particularly reassuring.
The NFL doesn't want fans tuning out, and it sure doesn't want CBS having second thoughts about its unique Thursday TV deal. CBS paid $275 million for the right to broadcast eight Thursday Night Football games, and to produce the rest that air on the NFL Network. It's an experiment in bringing Thursday games to network TV, and it's only a one-year deal. When the bidding opens for next year's slate, the NFL doesn't want the stench of this Thursday garbage to linger.
Or maybe the NFL and its broadcasters don't give a shit! Why should they? Vikings-Packers drew nearly twice as many viewers last night as both postseason MLB games put together.