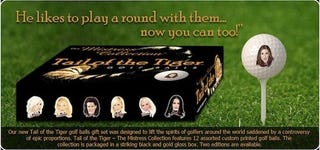 Well, this was inevitable. Just because Woods's sponsors dropped him, doesn't mean we can't still make a buck off him. For the Tiger Woods completist, or anyone with a terrible sense of humor, have we got the balls for you.
Yes, twelve golf balls, each emblazoned with the face of a different Tiger hookup (even the ones he's never met but are just talking to the press for a quick payday!). From "Rachel" to "Jaimee" to the unnamed "Cougar," all your favorites are here! For a low low price of $49.95, plus shipping and handling.
That's for the "Collector's Edition" — there's also a game-ready "Player's Edition," which is funny, because those two words could describe Tiger with women, get it? Actually, after reading the convoluted rationale behind these, I'm pretty sure all puns are unintentional.
With the possible exception of Michael Jordan, no other athlete has so dominated a major professional sport as much as Tiger Woods. Athletes of this caliber, with vast commercial appeal, are precious resources and should not be disposed of hastily. And yet this is precisely what some of Tiger's largest sponsors have done – apparently without consideration of what it will cost them over the long term.

...

It is only a matter of time before Tiger does return to golf and does so with a vengeance! You really think an athlete of his caliber is not going to come back with a big point to prove?

...

Unlike other contemporary professional athletes, Tiger Woods hasn't physically hurt or abused anybody. Tiger just had a wandering eye. And that is something that many people can relate to personally.

It is time to put this all in perspective.

Tail of the Tiger Golf Balls are designed to lift the spirits of golfers around the world who are saddened by this loss on many levels – from those who make a living at the game to companies that sell products, to the fans who just love to watch a master practice his craft.
This reads like it went through an online English to Chinese translator, and back again. And considering you have to use Paypal to purchase, that might not be far off.
Tail Of The Tiger Golf Balls [tailofthetiger.com]