Tiger Woods hasn't even shown up for his earth-shattering non-press conference, but he's already annoying everyone with his attention-hogging, me-first attitude.
The apology will take place tomorrow at the PGA headquarters in Florida. At the same time, actual golf will be getting underway in Arizona, at the Accenture Match Play Championship. Accenture was the first sponsor to cut and run from Woods after his marital woes first surfaced. A not-so-subtle reminder of who really calls the shots in the golf marketing world? You might say that. Ernie Els sure did.
It's selfish. You can write that. I feel sorry for the sponsor. Mondays are a good day to make statements, not Friday. This takes a lot away from the golf tournament.
Of course, you could argue that this is the only reason anyone would even think about the Accenture Match Play Championship this weekend, so maybe its his perverse way of making amends. Tiger's agent also claims he has a very good (yet undisclosed) reason for not waiting until next week. (If he wants to play the Phoenix Open next weekend, he has to declare by Friday.)
But that's not the only reason folks are annoyed at him. The press conference will be in front of a select group of very friendly reporters ... who will not be allowed to ask questions. To some, this "control freak" attitude signals that no matter what he says tomorrow, Woods hasn't changed one bit.
G/O Media may get a commission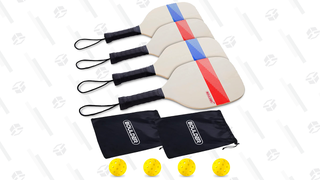 It's Pickleball
Pickleball Sets
Plus, it doesn't make the media look very good to be kowtowing so easily. Some are suggesting a media boycott, but it's hard to imagine Golf Digest choosing this moment to get shove-y with Woods.
The final piece of the puzzle is Elin. Will she be there? If not, all his rehab—and anything he might have to say about putting his life back together—may be for naught. He should probably start scheduling his apology for his apology.
Ernie Els says timing of Tiger Woods announcement 'selfish' [ESPN]
Tiger Woods's arrogant return shows he's still golf's big beast [Telegraph]
What Tiger Woods will say Friday is uncertain, but his message is clear [Golf.com]