Yelp is a helpful website if you want overly critical reviews of small businesses from people who have no other outlet through which to voice their long-winded frustration. After digging through some of the criticsm, however, Yelp is great for another purpose: finding weird stories about athletes. Below are some Yelp reviewers' experiences with athletes. None of these tales have been confirmed, because how are you going to find out if Rasheed Wallace really was bowling at a place in Detroit once? Simply enjoy these anecdotes about athletes being just like us.
Jokic? Embiid? The NBA MVP is obvious... right? | Keep it a Buck(et)
The following stories are all [sic]'d.
Far Eats M. witnessed Brandon Jacobs fail at racquetball at LA Fitness in Wayne, N.J.:
I remembered 4 years ago Brandon Jacobs and his trainer challenged my friends to racquetball. Good thing Jacobs is a pro football player.
Brendan C.'s review of Tony's Burrito Mex gives us insight into Dustin Byfuglien's process of getting really fat:
Righteous late night food. You even see some of the Blackhawks in here sometimes. Dustin Byfuglien was a regular before he was traded to Atlanta.
G/O Media may get a commission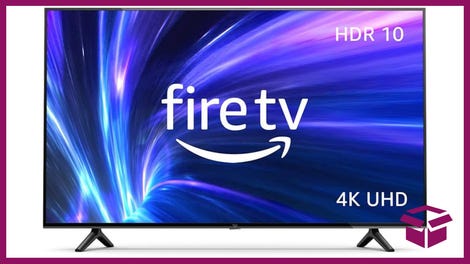 42% Off
Amazon Fire TV 50" 4K Smart TV
Berti H. learned that Peyton Manning always gets a certain table at Harry and Izzy's. ALWAYS:
We were greeted with a warm Indiana hello and taken to the best table in the house (although, I understand that table #18 belongs to Peyton Manning, as does a part of the restaurant), where we were met by our friendly waiter, George Maple.
Heather M. went to former White Sox skipper Ozzie Guillen's favorite Chicago restaurant, according to Foursquare:
That said, they do have a cool patio, assuming you can actually get adequate service. Moreover, I see Ozzie Guillen is the mayor of LB on Foursquare. That may be a testament to how good the food/service COULD be - aside from their deplorable chicken hibarito - given I imagine they wait on him hand and foot.
Michael W. ate in front of a gross, chest-hair-filled picture of Chris Berman. This isn't an athlete sighting, but we just really want to see this picture now:
Sitting in front of a picture of Chris Berman with a forest of chest hair peeking out from his strategically unbuttoned shirt was definitely amusing, if a bit disgusting as well.

3 stars for bocce and pictures of famous people
Stacy O. watched a woman suffer the frustration of Andy Reid bogarting her massage therapist at Knead Body Boutique in Philly:
While I waited, the woman next to me waiting for her 10am massage was still waiting at 10:40. She was told her massage therapist was "at a meeting with the Eagles head coach" and no one knew for sure when she would return. They lady amusingly stated that now she had one more reason to hate Andy Reid for infringing on her massage time, and she ended up walking out.
Another Andy Reid tale, this time about poor meal portions, from Adam C., about a sushi bar in Philly called Hikaru:
There's a story that Andy Reid, the Eagles Coach, ate here and his only complaint was that there wasn't enough food for the platter he ordered.
Michelle F. knows that Jeremy Shockey met with fans at The Penthouse Club in the French Quarter of New Orleans:
this is a "gentlemen's club". y'know, 'cause civilized, well-mannered menfolk like to ogle topless dancers as much as chest-beating knuckle-draggers. so, it's pricey and the women are conventionally pretty - no tattoos and not much diversity, but all very attractive and the club itself is the swankiest of all the Quarter strip clubs. all in all, a classy place to get your grind on. there's a very nice bar that can be accessed from the street, which i think is a nice touch. join their mailing list - Jeremy Shockey did a meet and greet there after the Saints' Superbowl win.
Cherice J. went to Utopia in Allen Park, Mich. and learned that Rasheed Wallace likes to bowl:
Upstairs there is also a few pool tables and arcade games. It's definitely one of those chill places to go, if you aren't in the mood for the club. I will always remember the last time I went, because I was bowling right besides Rasheed Wallace (Detroit Piston) and didn't even know it was him because he was so incognito and laid back.
Lisa P. saw Andrew Bynum bowling at AMF El Dorado Lanes in Westchester, Ca.:
I have been to this location a few times. I love to bowl even though I am not a good bowler. The last time we were here we were bowling next to Andrew Bynum. He plays on the Lakers.
Among other things, Ric T. observed Jason Giambi trying to woo a women while enjoying some adult entertainment at Lookers in Elizabeth, N.J.:
Some highlights, almost banged a chick on the side of a dumpster in the parking lot, got a cappucino here one afternoon that burned my mouth more than Jackson's scalp, saw Jason Giambi hiding in the corner of this place trying to pick up some animal & overall loved seeing some of the hottest dancers on the East Coast.
Nina M. was outside of The CrossRoads Bar and Grill when she witnessed Patrick Kane enjoying champagne on a stretch Hummer:
In the summer you might sit outside along 2 sides of the perimeter. You might sit back have a beer and see Patrick Kane drinking a bottle of champagne on TOP of a white stretch Hummer. Ohh Madison St.
Collin K. watched Tim Lincecum party hard at Santos Party House:
Absolutely horrendous, but in a good way. Don't have to worry about most of the usual bs to get in. There's no way any girl there is over 21 so take that information however you want.

Last time I was there, Tim Lincecum did two handstands in a dance circle and then puked everywhere.
If you've seen some Yelp reviews like the ones above, give a link to us in the comments.