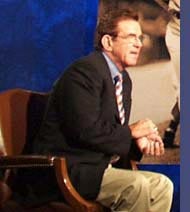 Obviously, the work of Tim McCarver has long been discussed in the most reverential manner. But his whopper from last night has everyone abuzz today.
Yes, Tim McCarver actually said this last night:
"You would think that a leadoff walk would lead to more big innings than a leadoff home run. But we've done the research and it turns out that more big innings have come from leadoff home runs than leadoff walks."
Now that's analysis and research! It turns out, too, that McCarver has espoused this wisdom before. He just said it a couple weeks ago, actually. He actually went to STATS, Inc. for this. That must have been an amazing phone call.
Tim McCarver Does Research [Boiled Sports]

Zero > One [Fire Joe Morgan]