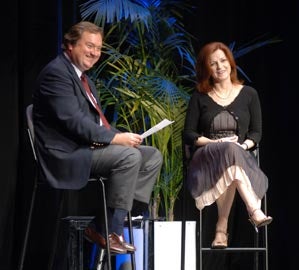 "Meet The Press" host Tim Russert, shown here interviewing one of the mothers of Travis Henry's children, has himself a new gig this morning: He's hosting a "President Of Red Sox Nation" debate.
NBC's Tim Russert, host of "Meet the Press," will make a guest appearance on NESN as he moderates a discussion among the candidates for the President of Red Sox Nation. He will be joined by NESN's Red Sox field reporter Tina Cervasio serving as co-moderator.

The show, "Red Sox Nation: The Presidential Debate," will be videotaped at Boston University 's George Sherman Union this Thursday, September 27 at 11:30 a.m. It will air on NESN at 10:30 p.m. or immediately following NESN's post-game coverage of the Red Sox-Twins game on Friday, September 28.
Seriously: This President Of Red Sox Nation thing has gotten way, way out of hand. Though we are curious what the dog's views on global warming are. We hope he blames it on Jimmy Fallon; we're on board for that.
Welcome To The Circus, Mr. Russert [Red Sox Monster]