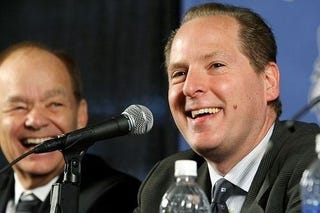 Mired in a nine-game slide, the Timberwolves are struggling to get acclimated to Kurt Rambis' triangle offense. Further, the team stinks. So, GM David Kahn did the only sensible thing - he wrote a letter to the team's 10 fans.
Kahn provided the letter to the Timberwolves blog, On the Wolves, for dissemination. The new general manager for the T-Wolves wants the fans to know he is not happy about the way the season has started and he will not accept it, nor will he give up. In fact, he's just going to dedicate himself even more to attempting to correct the team's shortcomings.
At times like these, I am motivated to work harder. I want to scout more, watch more film, crunch more numbers, ask more questions. I know Kurt and the coaching staff feel the same. The coaches are the strength of our ballclub right now – I am proud to be working with them. We all recognized when we signed up for this mission that it takes a Herculean effort, from all corners, to turn around a franchise and make it championship-caliber.
I understand that it should be considered refreshing that a general manager would choose to be up front and honest with a team's fans, and that a proactive approach such as this should be applauded. On other other hand, it has all the appearances of an act of desperation by an already beleaguered GM only 10 games into the season.
But who knows? Maybe Kahn can turn the crappy franchise around - as former Timberwolves star KG once said, "ANYTHING IS POSSIBLE!!!"
But seriously, it aint going to happen.
From David Kahn [On the Wolves]