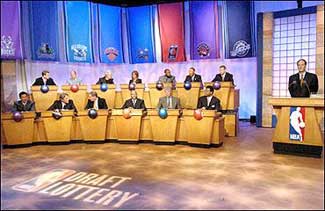 Tonight's the NBA Draft Lottery, which, if you've watched the last half of the season, you know is the most important night of the past 365 days for half the teams in the league. Which is depressing, but whatever.
As always, the real question: How's it gonna be rigged? Winning The Turnover Battle ranks the candidates, finding, ultimately, that Atlanta has zero chance of winning Oden or Durant, and the Celtics and Timberwolves should be feeling right good. (Seriously, the Timberwolves winning one of the top two picks would change matters rather dramatically.)
Because he's perpetually obsessed with the NBA Draft Lottery, Dan Shanoff is going to be live-blogging the lottery selections here at Deadspin this evening. If anyone can make the opening of envelopes into a gripping experience, we figure it's probably him.
NBA Lottery Conspiracy Preview [Winning The Turnover Battle]
Tuesday Quickie [DanShanoff]