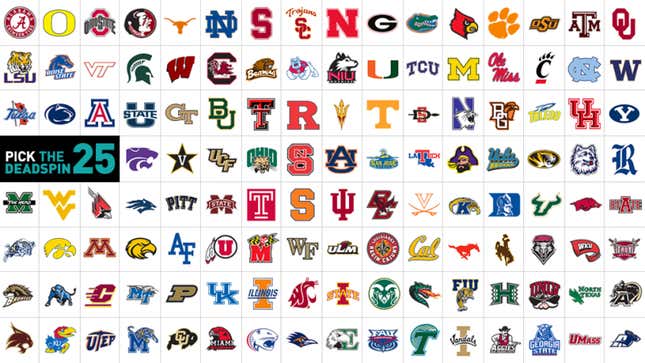 Polls! You can't trust 'em! Don't believe me? Get a load of this shit, from Big Poll, no less:
Can we trust the polls? Under the best of circumstances, the answer is "Not necessarily without a fair amount of detailed information about how they were conducted."
How running an NFL team is like running a restaurant | Chef Emeril Lagasse
Big Poll had its time, and it failed the people. Do you know where Central Florida was in last year's preseason AP and Coaches polls? Nowhere to be found. Not a single vote! You want to know a poll that is not only wholly democratic but freakily prescient? Well, you're staring at it.
Three years running now, the voters of the Deadspin 25 have selected Central Florida as their champion. At first, it was cute and almost absurdly fitting—in the Deadspin 25's initial run, the Knights finished a perfectly imperfect 0-12, capping off an intern's ingenious and totally original college football preview idea. The next year, the voters, being the mildly annoying semi-lovable internet assholes they are, went and fixed the poll to put Central Florida on top once more. Fine, I thought, we'll let them have their fun—joke's on them anyways, they have to read about Central Florida! The Knights were better that year, going 6-7. It was oddly charming, but still, enough was enough. In 2017, Central Florida was once again chosen as the Deadspin 25 champion. Running late, per usual, the poll caught up to them in October, when the Knights were 3-0, fresh off a monster win over a hot Memphis program. Ten games later, they were 13-0 and declaring themselves the champions of the FBS and holyshitwhatdidyouguysdo??
The Deadspin 25 is a poll you can trust, because it's a poll by and for The People, and I'll be damned if The People don't know their shit. Here, there is no need for the inane opinions of coaches and the AP, because the Deadspin 25 voters have proven that they can do it just as well as the writers woofing down rewarmed hot dogs in the press box. It is a chance for you, the dirtbag reader, to determine not only what gets blogged, but also, apparently, the very course of the upcoming college football season.
You know the rules: Everyone can vote for up to 25 teams as many times as you like. [Insert pointless plea about not hacking the poll.] If you have any particularly interesting notes or tidbits you'd like to share about your team, email me. The poll will close Friday, July 27, at 2:00 p.m with previews starting the following Monday. Now get to it.