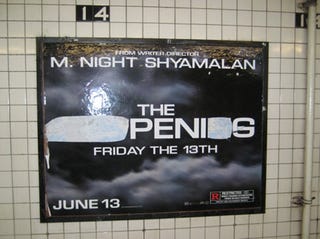 What to watch while hoping there's not a twist at the end of this one...

In Progress: Chicago Cubs at Los Angeles Dodgers. [FOX] Sumo wrestlers yesterday. Today, samurai?

In Progress: UFC 85. [Pay-per-view] MDS is holding a live blog over at Fanhouse.

Run, You Stupid Fucking Horse, Run: Belmont Stakes. At least I already know putting all my money on Casino Drive was a bad idea. [ABC] 5:30 P.M.

MLB: Minnesota Twins at Chicago White Sox. Look for crowd shots of the Pants Party. [WGN] 7 p.m.

Boxing: Kelly Pavlik vs. Gary Lockett. [HBO] 10 p.m. Youngstown be proud.