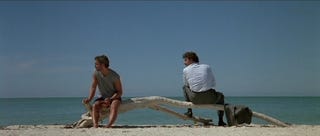 What to watch while taking the Plaxico Burress gun safety lesson from an Ohio police chief...
• College Basketball: UNC-Asheville at North Carolina (6:30 pm ET) [FSN] - In the immortal words of Bugs Bunny, was this trip really necessary?
• News: "60 Minutes" (7:00ish pm ET) [CBS] - Michael Phelps will break his next world record by running on the water. Even Andy Rooney won't find much to gripe about.
• Movie: Manhunter (8:00 pm ET) [TCM] - "I know that I'm not smarter than you." "Then how did you catch me?" "You had disadvantages." "What disadvantages?" "You're insane."
• Movie: The Runaway (8:00 pm ET) [TCM] - As explained at News From Me, this is a 1962 Cesar Romero movie that never reached the theaters for reasons not fully explained. So, y'know, put on your best tuxedo T-shirt and pretend you're going to the world premiere.
• NFL: Chicago Bears at Minnesota Vikings (8:15 pm ET) [NBC] - The NFC North has the feel of one of those elementary school track and field days where everyone somehow gets a ribbon. Except Detroit.