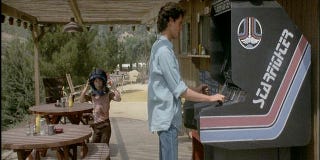 What to watch while creating your Christmas ornaments out of reindeer poo...
• College Football: Kentucky at Tennessee (6:30 pm ET) [ESPN2] - If you lash these two rosters together, you might get one decent Top 25 squad. We won't comment on whether this would be true of the two states.
• College Football: Oklahoma at Oklahoma State (8:00 pm ET) [ABC] - Those whom George Bodenheimer has so joined together for ratings, let no man put asunder. A new NUMB3RS episode will take care of that.
• College Football: Notre Dame at USC (8:00 pm ET) [ESPN] - Notre Dame is already down 17-0.
• WTF: Austin City Limits - Coldplay (8:00 pm ET) [PBS] - ... what?
• Movie: The Last Starfighter (8:30 pm ET) [HBO Family] - We've always wanted to fight a desperate battle against incredible odds.