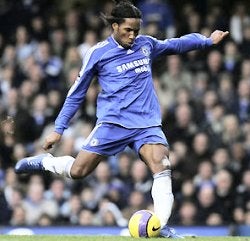 • Manchester United 2-0 Charlton. Status quo for both Manchester United and Chelsea this week. There are still six points between them in the standings... seems like it's been that way forever. United wasn't all together sharp today against Charlton, but ... who needs to be impressive when they're playing Charlton?
• Chelsea 3, Middlesbrough 0. Kind of a similar story for Chelsea... not the smoothest football in the world, particularly in the first half, but it was good enough to blank Middlesbrough. Dider Drogba popped in two goals, and Abel Xavier was generous enough to give them an own goal. Both United and Chelsea have 11 Premiership games remaining, and they do play each other once more.
• Newcastle 2-1 Liverpool. Liverpool, the closest thing there is to a challenger to either United or Chelsea, lost their first game under American ownership. A 70th-minute penalty by Newcastle's Nolberto Solano did them in.
• Arsenal vs. Wigan. This one's tomorrow at 11 a.m., but I did want to make note of Arsenal's recent partnership agreement with the former Colorado Rapids of the MLS. I've read that they'd be changing their name to either Arsenal Colorado or the Colorado Arsenal, but their website indicates that they just got spiffy new uniforms that read "Rapids," so I guess they're stuck with the lame name. The teams will exchange friendlies, coaching tips, marketing information, and bundt cake recipes.