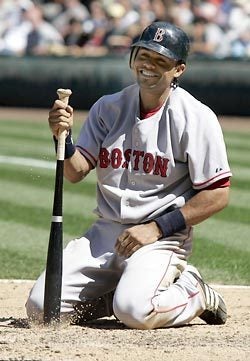 It's always a sad thing when a moose goes bad. One minute he's delighting children with his playful antics, and the next ... vehicular assault. The victim: Boston's Coco Crisp, who was minding his own business, warming up for Sunday's game in Seattle against the Mariners. The assailant: Mariner Moose, now on the run ... a wanted moose. Crisp was run over by the mascot — who was driving an ATV — prior to Sunday's game, but went on to double twice, score two runs, drive in a run and make a great running catch during Boston's 9-2 win over Seattle. Josh Beckett (14-5) struck out nine to get the win and Manny Ramirez hit his 19th homer for the Red Sox. Crisp's quote about the "accident": "I'm not an angry man. It was an accident. I mean, I'm not going to run over and clothesline the guy." Seattle manager John McLaren: "Is the moose hurt?" Ha.
• Say Cheese. I love a good rivalry, so when the Athletics' John Lackey threw at the Angels' Vladimir Guerrero in the first inning on Sunday, I was all set to enjoy some good old-fashioned fisticuffs. Alas, it was not to be. LA went on to win 4-3, and all that happened was that, after the game, Lackey said of the near-beaning, "That was noticed.'' Well, OK then.
• Better Living Through Chemicals. The Giants' Barry Bonds sat out of Sunday's 5-4 loss to the Padres in San Diego, but indirectly supplies us with an entertaining quote nonetheless. It's from former teammate Brian Johnson, who said on ESPN's Outside the Lines on Sunday, about Bonds' alleged steroid use, that "You could make a fair argument that (Bonds) may have been cheating." Johnson, who caught for the Giants in 1997 and '98, said "It was kind of a cloak-and-dagger society. Guys that were taking knew of each other and talked about things among themselves. What I saw was that guys who were taking would never admit it, would never allow anybody to see. But it was pretty obvious to all of us that they were taking. ... Some people sold their soul to the devil and other people didn't." Meanwhile, Padres' pitcher Greg Maddux appeared as a pinch-runner in the sixth, and the Giants' Barry Zito pitched an inning of relief in the seventh during San Diego's victory.
• Go Wes, Young Man. When the Phillies come back from a six-run deficit to win in 11, can the end of the world be far behind? Wes Helms' two-out, two-run double beat the Brewers 8-6, as the Phillies needed five runs in the ninth just to tie.
• Matsui! (Bless You). Hey, Hideki Matsui now has 100 career homers. Yankees 8, Royals 5. New York within a half game of Detroit in the wild card race.