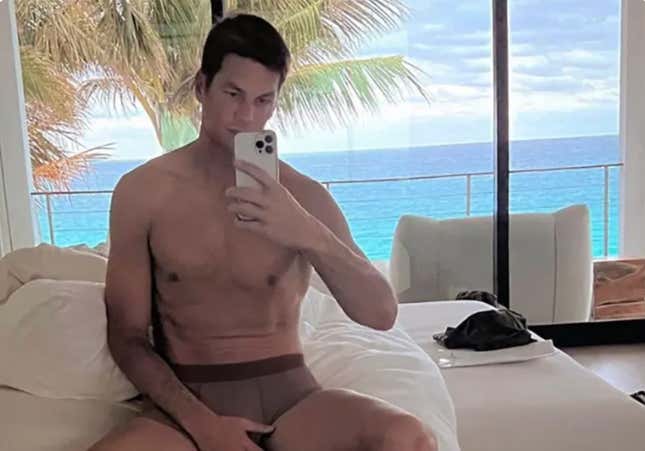 It's Super Bowl week, and if you thought Tom Brady was going to let this week go by without being all up in your timeline...well. Just a week after announcing he's retiring from football (you'll never convince me he didn't play an extra year just to stick it to Adam Schefter), Tom Brady has dropped his first thirst trap on Twitter. Or, attempted thirst trap. Actually, IS this a thirst trap?
As with many things Tom Brady, the attempt to be cool and edgy just winds up being sterile, boring, and kinda sad. A beige man in a beige room in beige underwear with a "please clap" look on his face.
And because OF COURSE:
Yes, Tom. We all knew the plug was coming. I'm not sure what color "heather crimson" is supposed to be, but I believe this is what we used to call "puce," which... meh. The fact that there is something called the "Brady Boxer Brief" is enough to make me want to stick my head in the oven, because you know there are guys in New England burning up the internet right now to wear the same undies as their hero. And even more so because no amount of refusing to mask during COVID, vouching for Antonio Brown, stumping for Donald Trump, or getting a PPP loan during a nationwide pandemic is enough to get people to stop buying what this guy is selling. He's even gotten to Jane Fonda, for crying out loud.
Of course, this entire thing was set up by Brady's own brand:
So...whatever. It's Super Bowl week and everyone is talking about Tom Brady, which is exactly how he wants it to be.