Murray Chass, senior writer for murraychass.com, recently threw heat at HOF Expansion Era committee member Tom Verducci for apparently voting against Marvin Miller. Verducci fired back, and thus the post became unique to the Chass oeuvre in that someone actually read it.
Jokic? Embiid? The NBA MVP is obvious... right? | Keep it a Buck(et)
You can find Verducci's reply here. In it, he clarifies that he did in fact vote for Miller. He also refers to Chass, the self-styled not-a-blogger, as "the blogger" seven times, which is funny the first four times or so, and then you realize Verducci is being as much of a blog-baiting fathead as the guy he's lampooning. Anyway, here's what Chass wrote that so exercised Verducci:
The Hall does not disclose individual votes so unless committee members say whom they voted for, their ballots remain secret. That practice, however, leaves room for speculation, and Miller said some people told him they heard or believed the other two no votes, besides the three owners, were Frank Robinson, the Hall of Fame player, and Tom Verducci, the sports writer.
And then Chass doubled-down:
I'm not sure what Verducci, the Sports Illustrated writer, thought of Miller, but I know he didn't think much of the job Miller had. When Verducci covered baseball for Newsday, the Long Island daily, he hated covering baseball labor. And when he did cover it, he wasn't very good at it.

During the 1990 lockout, there was a Saturday afternoon bargaining session, before which the retired Miller met with members of the union's negotiating committee and, in effect, gave them a pep talk. The bargaining session turned out to be critical and led to the settlement of the dispute, but Verducci missed the development, writing instead that the situation was growing worse.

Could Verducci's view of labor negotiations translate into a no vote 20 years later? Only he knows, but that's what the belief is, and Miller missed by that margin of one vote.
G/O Media may get a commission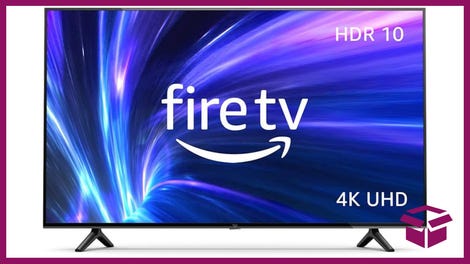 42% Off
Amazon Fire TV 50" 4K Smart TV
Verducci's response:
Because Miller gave erroneous hearsay to the blogger that was published, and especially with Miller falling one vote short of induction, the Hall of Fame took the unusual step of allowing me to reveal my vote. Committee members are asked not to reveal their votes.

Miller issued his apology to me after I telephoned him. I informed Miller that I supported him in the meeting room and with my vote. I also stressed to him that while I continue to admire his accomplishments, I was disappointed and saddened that a champion of fair treatment in his professional career would pass unfair, erroneous accusations to a blogger.

"I passed it along, and I'm guilty of that," said Miller, who admitted that he spoke with the blogger by telephone when he made his comments. "I didn't know he was going to publish it."
Let's just go ahead and call this one for Verducci, but in Chass's defense I'll say this: He may now be a silly old crank who writes prose as if he's teaching small children how to read, and he may now also be a terrific asshole (I speak from experience), but once upon a time the guy was an excellent reporter who covered baseball's labor strife better than anyone around. It's nice to see him storm the ramparts on behalf of Miller's Hall of Fame candidacy, stupidly or not.
UPDATE: The Wall Street Journal tracks down Murray Chass:
Chass, who was out of the country while reporting on the story, told the Daily Fix that he regretted reporting on Miller's error and will address the correction in his next column. "Had I been home, I would have called Verducci and asked him the pertinent question, just as I would have tried reaching … others who might know about the voting," Chass wrote in an e-mail. "I have made a career out reporting accurately and don't like being wrong."
SAME OLD SAME OLD [Murray Chass's Blog]
Setting the record straight on Hall of Fame vote for Miller [Sports Illustrated]