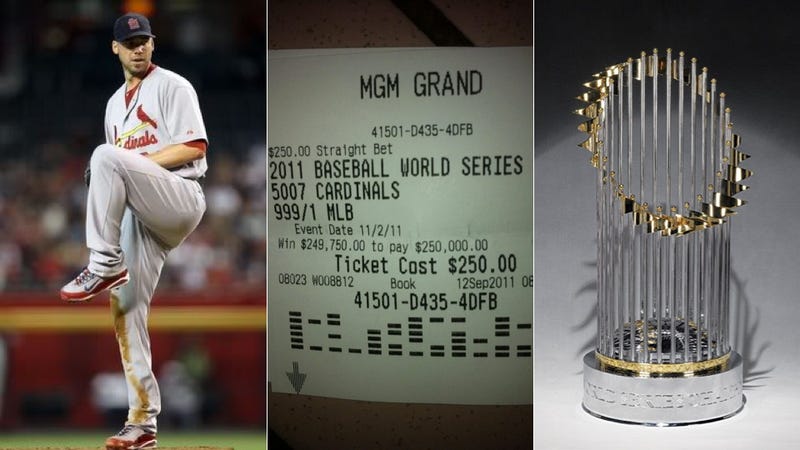 There's probably a good-sized group of folks wandering into the Las Vegas MGM Grand sports book tonight, taking the Cardinals at -125. If they were to throw down $250, it could become $450. A nice chunk, but nothing to wet the bed about.
Then there's the still-unidentified man who made the same wager, at the same sports book, back on September 12. The Cardinals were "out of the race" in the same sense that they were "out of game 6", and he got 999/1 odds. His $250 is nine innings away from becoming $250,000. That is called beating the house.
So much remains unknown about our intrepid, foolish bettor. In the absence of a name and face to assign to a magical ticket, rumor has taken hold. He lives in St. Louis; maybe. He's a lawyer, or he's in real estate, or he's a professional gambler who makes his living taking the long shots that aren't as long as Vegas thinks. He hedged his bet by putting 100 grand on the Rangers before the series began; he's riding this betting slip come hell, high water, or Matt Harrison.
We don't know what he's thinking, which is why it makes him so fascinating. What if it were you? Would you be at a bar, enjoying every minute of the adrenaline rush? At home, watching on TV, living and dying with every pitch? Locked in a darkened bathroom, afraid to emerge and find out what's happening?
Tonight, soon, so goddamn soon, we'll all know.
EARLIER: The Man Who Bet The Cardinals At 999/1 When They Were Out Of The Race Is Looking Smart And Rich Right Now