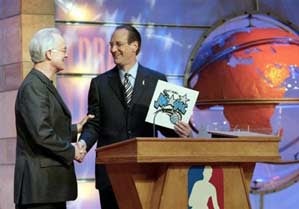 It's the NBA Draft Lottery tonight, otherwise known as "we can't believe the Knicks didn't trade away their first round pick." If you get your jollies from doing mockups of ping pong balls bouncing around, Chad Ford, as always, has your back.
"Ping Pong Balls And A Dream" is what NBA.com is calling it, and hey, who can't get excited about that? There's no obvious No. 1 and No. 2 like Oden and Durant last year, though certainly Derrick Rose is going to make someone awfully happy. True Hoop has a good rundown of what each lottery team is thinking, and hey, look: Dwyane Wade will be representing the Heat! Talk about a fall. We hope he brings Star Jones with him.
So yeah: It starts tonight at 8 p.m. Ping pong balls and Dwyane Wade in a suit.
By the way, FanIQ has some "great" NBA Draft Lottery moments.