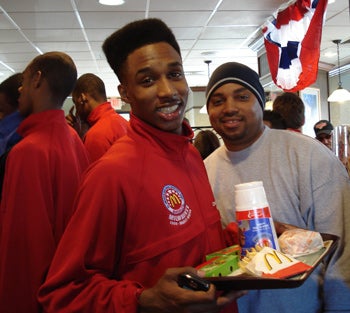 With a nice finger extended to David Stern's 19 year age limit as he crosses the Atlantic. At least according to his lawya, Jeff Valle.
Valle said Jennings will not even wait for his third standardized test result to see if he got a qualifying score after his second test was questioned by the NCAA. The results from the third test are due later this week.

"That's a moot point now," Valle said. "He's not going to the University of Arizona. Brandon plans on going to Europe."
Well, Lute Olsen is holding things down at Arizona nicely. Get rid of most of the coaching staff that was supposed to follow you whenever you retired? Check. Lose another top 40 recruit, Emmanuel Negadu, to Tennessee? Check. Contemplate re-retirement or several years in the NIT? Looking that way.
The Big Lead also has some good stuff about whether or not this represents a new era in NBA-collegiate relations or Jennings is the exception.
Lawyer Says Arizona signee Jennings headed for Europe [ESPN]
And the European Basketball Experiment Begins [The Big Lead]