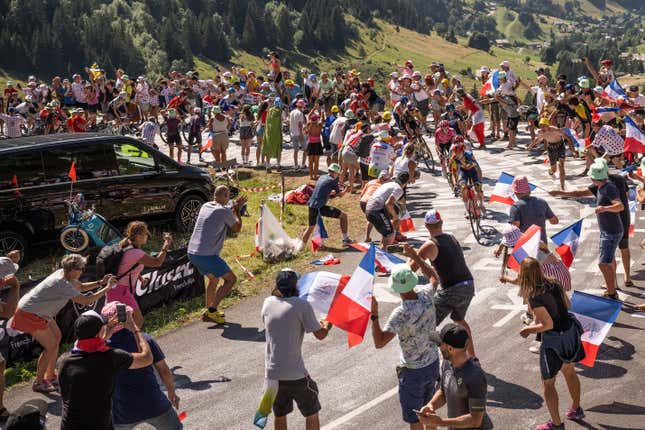 Selfies are already a narcissistic activity. People taking pictures of themselves and then posting them on social media, and this self-absorbed activity is rewarded with likes, comments, and gifs. At least if a selfie is being taken at the Washington Monument or the last standing Blockbuster no harm is being done. At the Tour de France though, people, your faces are not so important that a picture is worth causing a wipeout.

How running an NFL team is like running a restaurant | Chef Emeril Lagasse
On Sunday, a spectator inadvertently touched American cyclist Sepp Kuss during Stage 15. Kuss lost his balance and as he tumbled to the ground, a number of competitors would end up joining him there. There is a picture worthy of the IG Wall with the caption, "What can I say, things just got piled up."
Even if the selfie hadn't caused a wreck in the biggest cycling event of the year, what was the person looking to photograph? Riders are zooming past him at 20 miles per hour. A picture with teeth, mountains, and four blurs in the background. I don't think impressionism has the same effect on social media even if the picture is taken in France.
When Larry David accidentally tripped Shaquille O'Neal on an episode of Curb Your Enthusiasm, that was funny. For one, the show had already spent a season establishing David as comedically careless. And two, it was a T.V. show, not real life.
David causing a 20-rider pile-up at the Tour de France would be a great episode. He would be sitting in a French police station, trying to justify his faux pas by blaming the event for allowing spectators to be close enough to the riders to affect the race. I could spend 30 minutes of my day watching David try to wriggle his way out of a French jail and a stiff fine.
Real life, however, is not an awkward HBO comedy. It involves real people, who can suffer great harm when other human beings forget that there are many of us roaming around this planet. Because of that fact, we have to be aware when out in public. The way that we walk, drive, deplane, is all capable of causing chaos when we act like we are the only show on the road.
I doubt that spectator would lean onto the floor to take a selfie from a courtside seat at Crypto.com Arena while LeBron James is attempting an inbound pass. Security would rightfully boot that person from that five-figure seat expeditiously. Why a selfie in the middle of the road during a bicycle race seemed like a better idea, I don't know.
Hopefully a lesson can be learned from this knucklehead. For those of you out there who must selfie, there is a time and place for it. When people are pedaling their hearts out in the mountains to win a race is certainly not it.