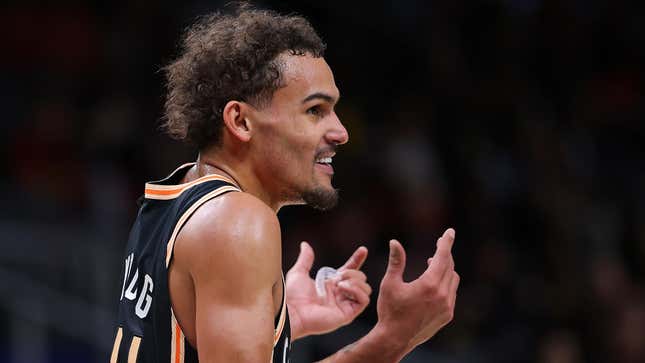 When a point guard averages 27 points and 10 assists, you must be talking about one of the best in the game. Trae Young is that dude. He has solidified himself as one of the most lethal scorers in the NBA. He is known as a shooter, with some going as far as comparing him to Steph Curry. We all know he can score, but Young's perimeter shooting prowess is overrated, as he is only a 35 percent shooter from three from his career and is currently on track for a 32 percent shooting percentage this season.
Hey Shannon Sharpe, the Memphis Grizzlies are the NBA's Kings of the Ring
That being said, to leave him open is to invite danger, especially at the end of games. Young can score on all three levels. He's one of the best guards in the NBA, period.

Tension between Young and head coach Nate McMillan
But, lately, there has been a specter hanging over the Atlanta Hawks franchise, and it has to do with Young's future with the team. The tension between Young and head coach Nate McMillan has been well chronicled. It's been brewing for a while now. The Hawks currently sit at 24-23, a game over .500, a disappointment after adding All-Star Dejounte Murray over the summer. Murray and Young have played well together, while relying on a my-turn/your-turn scheme on offense. For them to take the next step as a duo, Young will need to learn how to be just as effective off-ball while letting Murray cook on-ball.

But adding a triple-double threat in Murray hasn't produced a better on-court product in Atlanta. At least not yet, anyway. And much of the attention has been on Young this season and his ability (or inability) to make his teammates better. The tension has bubbled to the surface this season, with Young and McMillan's relationship getting so bad the head coach considered retirement. Hawks CEO Steve Koonin went on the radio to quickly dispel the rumor McMillan might leave, but later on, McMillan himself hinted at retirement after this season.
But this isn't Young's first run-in with a coach. Lloyd Pierce only lasted three seasons in Atlanta and was fired after the team started 14-20 in the 2020 - 2021 season. McMillan, at the time an assistant waiting in the wings, took over and guided the Hawks to a 27-11 finish. Once in the playoffs, they quickly dispatched the Knicks in the first round as the fifth seed, before upsetting the top-seeded Philadelphia 76ers in the second round and reaching the Eastern Conference Finals for the first time since 2014-15, where they lost to the eventual champion Milwaukee Bucks in six games. Young wasn't the only one who took umbrage with Pierce's coaching style. John Collins and Cam Reddish both complained about playing time and usage. But the butting of heads between the team's coach and superstar ultimately did Pierce in.

Whose side is the locker room on?
Pierce lost the locker room over time, with his schemes and rotations, rather than heated locker room shouting matches. Part of it was his public criticism of Young's playing style, which involved a lot of baiting officials into garnering favorable calls. This style of play pressured the league to institute a rule change on foul calling, limiting Young's effectiveness in this area. Young was one of the best at this, much to the chagrin of his coach, who routinely made an issue of it to the press. No matter how often the two met privately to try to get back on the same page, Pierce's firing seemed inevitable.
At the time of Pierce's dismissal, Young was only in his third season, and it was rare for a neophyte to have such power within the organization. That was only exaggerated when McMillan stepped in, and the Hawks reached the Conference Finals, making it apparent that choosing Young over Pierce was the right move. Reaching the Conference Finals will do that. But the season after, the Hawks were embarrassed in the first round by the Heat in five games. Young was especially dismal. After averaging 28.8 ppg in the prior year's playoffs, he could only muster 15.4 ppg on absurdly bad shooting splits of 32/18/79. Yuck.

Where does Atlanta go from here?
But now that Young is beefing with McMillan too (so much that someone like Shams Charina is tweeting that he is considering retirement), the perception is changing around Young as a franchise cornerstone. There are obvious issues around his defense. And there is something to be said about a player considered one of the best shooters in the league, only hitting 35 percent of his shots in his career. But now that they've added another All-Star alongside him, the team not making any competitive advancement record-wise looks even worse. There's a legitimate discourse to be had that Young does not make his teammates better. Just look at how Kevin Huerter has unlocked another side to his game since leaving Atlanta for Sacramento this summer.
That's not taking anything away from Young's ability to put the ball in the basket. He is one of the best in the game at that. But making your teammates better, augmenting your game for winning, and being a student of the game are all qualities of a superstar. Young is certainly one statistically, but reputation is a different story. If he can not repair the relationship with McMillan, a well-respected head coach for 19 seasons, Young will take on the infamous mantle of "coach killer." It's been a while since we've had one. LeBron James escaped the label early in his career when he learned to trust Erik Spoelstra in Miami after questioning if he was the right coach to lead the Heatles.
If Young doesn't change his approach with McMillan, he could be responsible for banishing two head coaches in five seasons. We all know Young can score. But can he lead? And more importantly, when it comes to his coach, can he follow?